17 Best Fundraising Software Solutions to Amplify Giving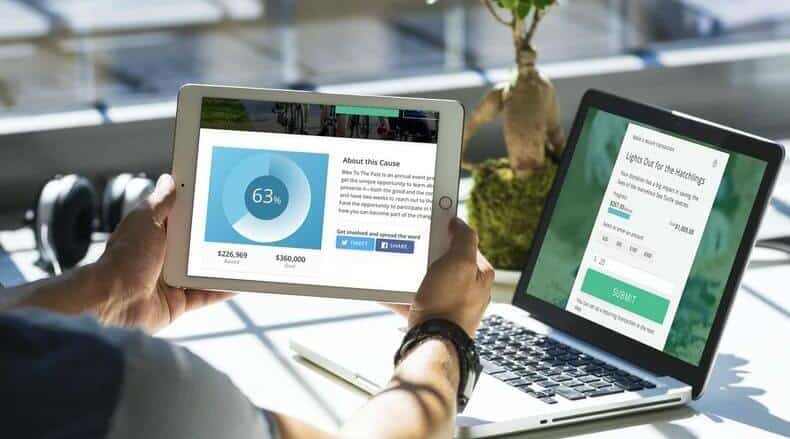 Fundraising software is designed to help nonprofits optimize their virtual fundraising efforts, recruit more donors, and raise more funds. These platforms combine multiple donation tools and fundraising activities, including donation pages, recurring gift reminders, donation receipts, and peer-to-peer campaigns, into one system. This makes it easier for donors to give to your cause and for your fundraising team to manage campaigns.
In this guide, we'll cover the basics of fundraising software and highlight a few of the most effective tools for nonprofits. Here's what we'll explore:
Let's jump in!
What does fundraising software do?
It would be inefficient, both in terms of time and energy, for your nonprofit's team members to launch several different fundraising campaigns, write personalized donor emails, and send timely donation receipts, all completely manually. Fundraising software helps manage these tasks behind the scenes and automates much of the fundraising process.
Fundraising software solutions save you from missing out on fundraising opportunities and help you build a professional reputation. Managing tailored campaigns, communications, and donor follow-through via your nonprofit fundraising software will make the donor experience seamless, potentially leading to more dollars earned in the future.
These platforms also make it possible to carefully study your fundraising results over time and create more effective, targeted future campaigns. This can increase your return on investment for each initiative. 
What features should you look for when buying fundraising software?
Every nonprofit will have its own specific needs when it comes to online fundraising features. It's important to know what your organization's needs are so you can choose the right solution.
Here are some popular features to consider when evaluating solutions:
Donation pages: An online donation page is a landing page where your donors can submit their donations online. Many online fundraising solutions offer donation-page builders where nonprofits can create customized forms to embed on their websites.
Donation buttons: A donation button is a call-to-action link on your website that you can use to send donors to your donation page or a specific fundraising campaign page. You can typically create donation buttons with your online fundraising platform and integrate them with your website. Some social media platforms like Facebook and Instagram also include the ability to add donation buttons to your social media pages.
Recurring giving options: Recurring giving allows your donors to set up regular, planned donations to your organization. Often, you can include this option on your donation form and create a fundraising campaign around monthly giving to promote the option.
Peer-to-peer fundraising: Peer-to-peer fundraising (also known as P2P fundraising) allows your supporters to take the reins and fundraise on your organization's behalf.
Crowdfunding: Crowdfunding also empowers your supporters to initiate their own fundraising campaigns for your organization. Your nonprofit itself can also initiate a crowdfunding campaign to raise funds for a certain project or program. Nonprofit crowdfunding often happens on social networking platforms like Facebook, but we recommend checking to see if your online fundraising platform includes a crowdfunding feature.
Auction management: Auction tools allow you to organize an online or in-person auction event and manage bidding.
Wealth screening: Wealth screening uses public data to give you insights into the giving capacity of your contacts and donors. This can help you identify donors who might be a good fit for a matching gift campaign or a major gift.
Pledges: Pledges are donor commitments to give in the future. Online pledge software helps record and follow up with these promises.
Text-to-give: Text-to-give allows you to collect donations or pledges by text, and it's an important feature for mobile fundraising.
Payment processing: Payment processing enables you to collect online donations by credit card or ACH payment.
Donor accounts: Donor accounts or profiles allow donors to view their giving history, recurring donations, tax receipts, event registrations, and more.
Integrations: Integrations connect your online fundraising tools to your other nonprofit software to create a seamless online fundraising ecosystem.
Reporting and analytics: Reports give you the ability to see actionable insights on all your online fundraising data.
Not all online fundraising tools will offer every feature listed above. You may seek out different platforms depending on your nonprofit's needs. For example, if you're looking to host more auction events, ensure the fundraising solution you select specializes in auctions and has robust bidding capabilities.
Consider investing in multiple platforms to expand your fundraising capacity and make the most of your fundraising potential. With the help of robust integrations, you can ensure that your technology works together as efficiently as possible. 
17 top fundraising software solutions for nonprofits
Let's dive into the most effective fundraising solutions available today and how they can help improve your nonprofit's fundraising campaigns:
1. Bloomerang: Best fundraising software for donor management
Increasing donor retention is probably one of your nonprofit's top priorities. When you encourage existing donors to continue supporting your cause, you tap into reliable, long-term support for your mission.
Bloomerang can help your organization improve its donor retention rate and build deeper relationships with your supporters. This powerful nonprofit donor management and online fundraising platform optimizes every stage of the donor cycle to help you maximize your fundraising efforts. Bloomerang gives you access to simple online giving tools that make fundraising a breeze, email marketing tools to help you connect with new donors, and a comprehensive donor database to store donor information.
STANDOUT FUNDRAISING SOFTWARE FEATURES:
Bloomerang offers automatic updates for multiple CRM elements, such as your supporters' ages and mailing addresses. Plus, Bloomerang automatically checks your database for duplicate entries, giving you the ability to merge and eliminate unneeded records.
These additional features also help maximize your fundraising potential:
Mobile-friendly donation pages and forms that allow you to capture new donor information and provide a positive giving experience
Built-in email marketing platform that allows you to leverage supporter segments to send more personalized messages to different audiences
Text-to-donate functionality to connect with donors via their mobile devices
Peer-to-peer and crowdfunding tools to expand your fundraising reach and empower supporters to fundraise on behalf of your cause
A personalized donor portal where supporters can update their information, such as their donation amount or frequency, and view their giving histories
PRICING:
Bloomerang's pricing starts at $119 per month.
2. Qgiv: Best fundraising software for mobile giving
Investing in an all-in-one giving platform makes the donation process more manageable for both your staff and donors. Qgiv is another comprehensive online fundraising platform that provides the tools you need to launch effective fundraising campaigns. These tools include donation forms, text-to-give campaigns, auctions, peer-to-peer fundraising, and more.
STANDOUT FEATURES:
According to the M+R Benchmarks report, the majority of nonprofit website traffic in 2023 (57%) came from users on mobile devices (compared to 43% of traffic from users on desktop devices). This makes Qgiv's text fundraising capabilities an especially powerful feature since more and more donors connect with nonprofits using their mobile phones. This feature allows you to send updates on your activities and events and reminders for donors to complete pledged gifts.
PRICING:
Qgiv's pricing starts at $0 per month for organizations looking to get started with online fundraising for the first time.
3. Fundraise Up: Best fundraising software for machine learning
It's becoming increasingly common for nonprofits to turn to innovative fundraising solutions, such as those powered by artificial intelligence (AI), to use a research-backed fundraising approach. Fundraise Up optimizes the donor journey by adding AI-based research to features like online donation pages and data tracking and analytics.
STANDOUT FEATURES:
Fundraise Up's algorithmic machine learning approach analyzes patterns in donor behavior to help your nonprofit suggest the right donation amount to each donor. These unique, optimized donation suggestions are automatically shown to supporters when they arrive on your online donation form.
PRICING:
Contact the Fundraise Up team for custom pricing.
4. Handbid: Best fundraising software for virtual auctions
Online and in-person auctions bring supporters together to support your nonprofit and acquire valuable items or experiences to enjoy. Handbid supports these nonprofit events with online fundraising tools such as auction software and mobile bidding tools.
STANDOUT FEATURES:
Handbid's virtual auction bundle provides the tools your nonprofit needs to run successful, engaging virtual auctions. The bundle includes a video production team to help you prepare the event livestream, a virtual event assistant, coaching, and more.
PRICING:
Contact the Handbid team for customized pricing.
5. GoFundMe: Best fundraising software for crowdfunding
Billions of dollars are generated through crowdfunding each year. Crowdfunding campaigns can help fund all kinds of projects, from medical bills for individuals in need to special nonprofit projects.
GoFundMe is one of the most popular online fundraising platforms for crowdfunding. The platform makes it easy for individuals or nonprofit organizations to set up a customized fundraising page and promote the page to a wider audience. Since the platform is so well-known, your organization can benefit from the trust that the general public has in GoFundMe campaigns.
STANDOUT FEATURES:
GoFundMe offers plenty of support for new fundraisers, including blog posts, video tutorials, and fundraising tips and ideas. This can help reduce the learning curve for inexperienced or first-time fundraisers.
PRICING:
It's free to create a GoFundMe fundraiser and the platform requires a transaction fee of 2.9% + $0.30.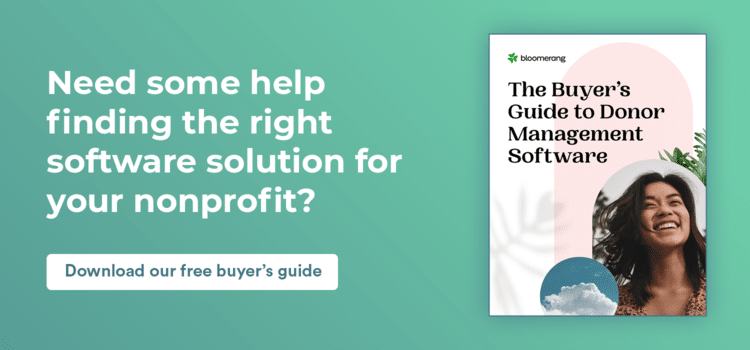 6. Donorbox: Best fundraising software for boosting conversions
One of the most common challenges nonprofits face when carrying out their online fundraising strategies are high donation form bounce rates. Supporters may arrive on your donation page, but quickly drop off without completing a donation.
Donorbox seeks to help with this issue by offering a unique UltraSwift checkout process with their online donation page builder. With Donorbox, you can easily copy and paste custom giving forms into your website, allow donors to cover transaction fees, and let donors easily save their payment information for future donations.
STANDOUT FEATURES:
Donorbox helps foster donor loyalty by allowing nonprofits to offer monthly giving options on their giving pages and create membership tiers. You can offer different benefits to different donor tiers and allow members to manage their engagement through membership accounts.
PRICING:
The Donorbox Standard plan is free with a platform fee and a processing fee.
7. DonorSearch: Best fundraising software for prospect research
If your nonprofit is looking to take on a more strategic outreach approach and increase your marketing ROI, it's helpful to start with prospect research. Prospect research is the process of identifying individuals who have the capacity to donate and a strong connection to your cause.
DonorSearch simplifies the prospect research process with AI tools, wealth screening, and philanthropic screening. DonorSearch provides access to the largest philanthropic database in the country to help your nonprofit supplement its internal data with valuable external supporter information. This additional information includes details about your prospects' wealth data, business affiliations, giving history, and more.
STANDOUT FEATURES:
DonorSearch also offers multiple valuable integrations with popular CRM platforms like Bloomerang. When you combine DonorSearch's wealth screening capabilities with the information stored in your CRM, you can identify the right ask amounts for each donor and upgrade long-time donors effectively.
PRICING:
Contact the DonorSearch team for pricing.
8. Bonfire: Best fundraising software for merchandise campaigns
T-shirt fundraising campaigns allow nonprofit supporters to support their favorite causes while adding stylish, comfortable new items to their closets. Bonfire is an online t-shirt fundraising platform that allows nonprofits to create t-shirt fundraising pages or empower their supporters to create peer-to-peer fundraising pages of their own.
STANDOUT FEATURES:
Your nonprofit can create a customized profile page with details on your organization's mission and active campaigns. And, with Bonfire's Campaign Dashboard, you can send personalized thank you emails to each supporter who buys a t-shirt.
PRICING:
Nonprofits receive 100% of the funds raised and donors have a processing fee.
9. 360MatchPro: Best fundraising software for matching gifts
About $4-7 billion goes unclaimed in matching gifts each year. The team at Double the Donation seeks to help nonprofits make the most of this untapped funding source by streamlining the matching gift process.
They offer online fundraising software that helps nonprofits raise more funding through corporate-sponsored matching gifts. Their flagship product is 360MatchPro, a matching gift automation tool that allows nonprofits to identify match-eligible donors during the donation process and follow up with them to encourage them to apply for a match.
STANDOUT FEATURES:
Donors can research their eligibility during the online donation process using 360MatchPro's comprehensive matching gift database. If donors are eligible, the database connects them with the paperwork and instructions required to request a match from their employers. This makes the process easier for donors, helping your organization bring in more matching gift funds.
When integrated with some fundraising platforms, 360MatchPro can even automatically submit matching gift requests for donors, making the process even faster. 
PRICING:
360MatchPro's pricing starts at $999 per year.
10. Givebutter: Best fundraising software for interactive fundraising pages
Givebutter is an online fundraising platform that's free to get started with and has no platform fees. Givebutter offers a suite of fundraising tools that nonprofits can use to maximize donations, including donation forms, a CRM, marketing features, and more.
STANDOUT FEATURES:
Givebutter's peer-to-peer fundraising pages make it easy for supporters to share their personal stories. Plus, they can use a dynamic social feed and social sharing options to communicate with donors and spread the word about their fundraising campaigns.
PRICING:
Givebutter is free for nonprofits to use, with no platform fee but a 2.9% + 30¢ processing fee.
11. Causevid: Best fundraising software for video stewardship
Video is not only an engaging way to share your nonprofit's story with supporters — it can also lead to a high ROI. According to a video marketing survey, 78% of video marketers say video has directly helped increase sales.
Causevid helps nonprofits make the most of this opportunity by helping organizations build heartfelt appreciation videos that spotlight their missions. Causevid helps collect video content, create a professional look and feel for your videos, and share your videos across multiple platforms.
STANDOUT FEATURES:
Causevid helps nonprofits identify the most impactful moments to send personalized videos, such as when a donor gives for the first time or on a giving day. The platform helps nonprofits create memorable videos to celebrate these milestones and boost open rates for emails and other marketing messages.
PRICING:
Contact the Causevid team for pricing.
12. Donately: Best fundraising software for custom donation forms
Donately offers a simple-to-use, customizable form builder for nonprofits to easily create and embed a donation form into their websites. Donately's forms seamlessly integrate with a variety of top content management systems, including WordPress, Wix, Weebly, and Squarespace.
STANDOUT FEATURES:
Donors can give using multiple methods with Donately's online giving forms, including credit cards, ACH bank transfers, and PayPal. Plus, Donately is backed by top-rated payment processors, Stripe and PayPal, ensuring that donor data remains secure.
PRICING:
Donately offers a free plan to get started with, which includes a 4% platform fee. Learn more about Donately's pricing options.
13. Giveffect: Best fundraising software for multichannel marketing
Giveffect goes beyond just offering fundraising tools, with a full lineup of solutions that help nonprofits streamline their operations. This includes a volunteer management platform, event fundraising options, grant management, wealth screening, and more.
STANDOUT FEATURES:
Giveffect's marketing platform allows nonprofits to manage all marketing campaigns from one central platform. Schedule email, direct mail, text marketing, and web engagement initiatives and track performance metrics for different campaigns.
PRICING:
The starter plan is $399 per month. Learn more about Giveffect's pricing.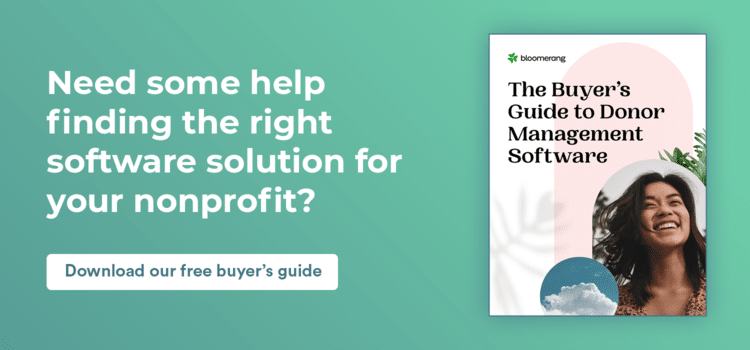 14. OneCause: Best fundraising software for event fundraising
84% of nonprofits use events as a digital organizing method to bring their community together. For many nonprofits, event fundraising is one of the most influential components of their fundraising strategy. That's what makes platforms like OneCause so essential.
OneCause offers event and online fundraising solutions, including a ticketing system, virtual streaming options, and hybrid event opportunities.
STANDOUT FEATURES:
OneCause's event management platform brings together event planning, registration and ticketing, donor engagement, and table and seating management. Plus, organizations can access multiple support options, including live phone, chat, and email support.
PRICING:
OneCause offers different payment plans based on the solutions you're looking for. Visit the website for more information.
15. Regpack: Best fundraising software for online registrations
Event registrations, memberships, digital storefronts, and session-based events can all be lucrative fundraising avenues. Regpack empowers nonprofits to manage these activities more efficiently with online registration and onboarding software.
STANDOUT FEATURES:
Drive more revenue with Regpack's automatic billing and payment plans that allow you to charge supporters on a regular basis. Automated payment reminders help you save time and avoid having to track down late payments.
PRICING:
Regpack's pricing starts at $125 per month, per admin, with a 2.1% payment processing fee.
16. Classy: Best fundraising software for donation websites
Classy is a comprehensive fundraising suite with a variety of features to simplify and amplify nonprofit fundraising, from a crowdfunding platform to a virtual and hybrid event manager.
STANDOUT FEATURES:
Using Classy, your nonprofit can build customized donation pages that are fully branded to your organization. Plus, you can create simple donation pages for specific direct appeals, such as year-end or giving day requests. This allows donors to give quickly and without hassle.
PRICING:
Contact the Classy team for pricing information.
17. Mightycause: Best fundraising software for team fundraising
Mightycause is an online fundraising and donor management platform that prioritizes long-lasting supporter relationships. Mightycause specifically offers tools for team fundraising, giving days, and year-round fundraising efforts.
STANDOUT FEATURES:
Mightycause's team fundraising tools include multiple ways to foster friendly competition among peer-to-peer fundraisers, including leaderboards and progress bars. Team fundraising pages are designed to capture attention, with bold images and live activity feeds.
PRICING:
Mightycause pricing plans start at $59 per month.
Wrapping up
Your online fundraising software will help streamline your team's fundraising efforts while providing an engaging, personalized donor experience.
For more information about online fundraising, review these additional resources: