11 Best Online Fundraising Platforms for Nonprofits [Updated 2023]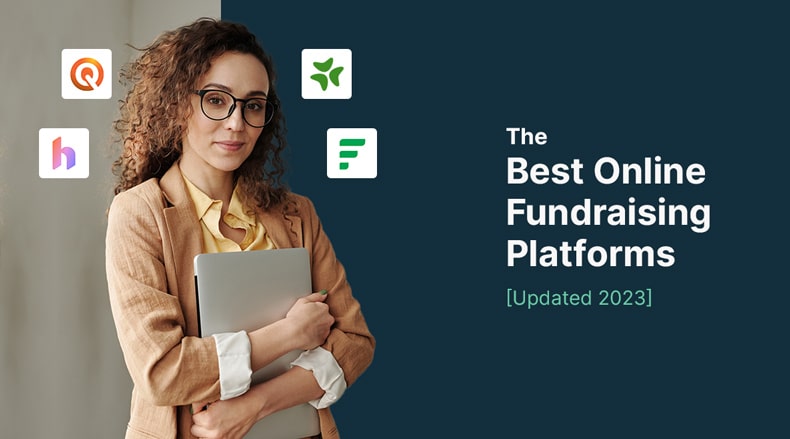 In today's nonprofit fundraising landscape, virtual fundraising is the name of the game. Supporters expect to be able to learn more about their favorite nonprofits, submit donations, sign up for volunteer opportunities, and engage in other activities right from their phones or laptops.
Whether you're ramping up your virtual fundraising efforts or completely rehauling your fundraising strategy, you're going to need a robust online fundraising platform to succeed.
An online fundraising platform is a software tool that allows nonprofits to accept and process online donations. These platforms are equipped with important features such as the ability to create customized giving pages, enable recurring donations, pursue peer-to-peer fundraising campaigns, and more.
For your nonprofit to exceed its virtual fundraising goals, you don't just need an online fundraising platform—you need to find the right platform that suits your organization's unique needs.
To make the search easier, we've created a list of top online fundraising platforms that we think might be a good fit for your nonprofit. But first, we'll dive into some of the basics of online fundraising platforms. Here's what to expect:
Carefully read through our online fundraising FAQs and top providers list to find the best tool for your organization. Let's get started.

Online fundraising platform basics
What are the benefits of online fundraising platforms?
Online fundraising platforms help nonprofits facilitate one of the most important stages of the donor cultivation process—the decision phase. This is the stage of the journey when supporters decide whether to donate to your nonprofit. Knowing they can submit a donation in seconds with the help of your online fundraising platform can make all the difference in helping donors choose to give.
Here are a few additional benefits of online fundraising platforms:
They allow you to expand your nonprofit's potential donor pool. Online fundraising platforms let anyone in the world who has an internet connection engage with and donate to your organization. This can help you grow your donor base beyond just individuals in your local area.
They allow donors to give from anywhere, at any time. Donors can pull out their phones, laptops, or tablets and give whenever they feel inspired. Plus, they can create donor profiles where they can take control of their involvement and update their payment method, track their giving history, and adjust their recurring donation amounts.
They help you easily track donor, fundraising, and accounting data. When your online fundraising platform integrates with your CRM, you'll benefit from seamless donor data transfers between platforms. Your team can save time by automating data tracking processes, such as transferring donors' names and contact information to your CRM. Donors will benefit when you use their information to personalize your outreach and engagement opportunities that resonate with their interests. Plus, when your online fundraising platform integrates with your accounting software, you can easily keep track of your financials and the impact of your fundraising efforts on your financial situation.
What costs are involved with online fundraising?
Before exploring our top providers list, it's important to know exactly what goes into the cost of online fundraising software. Here are a few terms you might see and what they mean:
The platform fee is the price you will pay to use the online fundraising platform or tool. This is also sometimes called the monthly or yearly fee.
The transaction or processing fee is the price you pay each time your donors use a credit card to submit a donation to you or one of your fundraisers.
What about free online fundraising software?
As a nonprofit professional, you're probably always thinking about reducing costs at your organization to direct most of your funding toward mission-essential projects and programs.
However, we've seemingly free platforms can often come with unexpected startup costs, such as having to hire a consultant to help set up the system.
Further, the largest issue most nonprofits face with free fundraising software is that they quickly outgrow the systems and have to migrate to a paid platform. Additionally, the transaction and processing fees are often higher with "free" software. You usually have the option to pass on these fees to donors, but they may decline to cover them in the cost of their donation, meaning your nonprofit will have to cover more of these fees.
On the other hand, investing in a paid solution designed for nonprofits ensures that your organization has access to all of the fundraising features you need right away. Review Bloomerang's guide to free fundraising software for more information about why it's recommended to seek out a paid fundraising platform.

11 best online fundraising platforms for nonprofits
Without further ado, here are 11 of the best online fundraising platforms to consider as you ramp up your virtual fundraising:
Online Fundraising Software Comparison
Fundraising Software
Recommended for
Favorite feature
Pricing starts at
Bloomerang
Donor database
Engagement and Donor Retention Tools
$119/month
2.9% + $0.30/transaction
Fundraise Up
Innovative online giving
Machine learning AI
$0/month
4.2% + $0.30/transaction
Qgiv
Flexibility
Giving kiosks
$0/month
3.95% + $0.30/transaction
Classy
Comprehensive & robust
Donation pages
$299/month
2.2% + $0.30/transaction
PayPal
Trust & affordability
Customized donation experience
$0/month
2.2% + $0.30/transaction
Handbid
Events & auctions
Integrated tools
$695/year
3.5% + $0.30/transaction
RaiseDonors
Insights
Giving dashboard
$99/month
2.9% + $0.30/transaction
GivingFuel
Simplicity
Conditional logic
$0/month
2.99%/transaction
Shopify
eCommerce fundraising
Customizable online store creation
$5/month
Donorbox
Website fundraising
UltraSwift checkout
1.5% platform fee
GoFundMe Charity
Free online fundraising
DIY Fundraising
2.9% + $0.30 transaction fee
1. Bloomerang
Online fundraising platform overview: Bloomerang is a donor management software equipped with online giving tools for nonprofits, a robust donor database, marketing and engagement tools, and integrations with other popular software platforms.
Recommended for: Nonprofits looking to upgrade their CRM platform to a seamless, all-in-one system.
Favorite feature: With Bloomerang's donor management software, your nonprofit has access to Generosity Scores that help identify prospective major donors. Plus, with Bloomerang's Engagement Meter, you can assess each donor's or prospect's relative engagement levels and identify your most engaged supporters to continue building strong relationships. And, with Bloomerang, you gain access to Kindful's robust suite of online fundraising tools to supplement your fundraising and marketing strategies.
Pricing: Bloomerang's Standard Plan starts at $119 per month.
2. Fundraise Up
Online fundraising platform overview: Fundraise Up is a fundraising platform that uses AI-based technology to help nonprofits optimize their online donation processes. The platform's features include recurring giving, peer-to-peer fundraising, donor portals, automated emails, cryptocurrency donations, and more.
Recommended for: Nonprofits looking for innovative online donation technology to boost online fundraising revenue.
Favorite feature: Fundraise Up's state-of-the-art machine learning AI analyzes your website visitors and tailors the suggested giving amount for each person helping you achieve your goals faster.
Pricing: Fundraise Up's pricing includes processing fees for each transaction and 4.2% platform fees.
3. Qgiv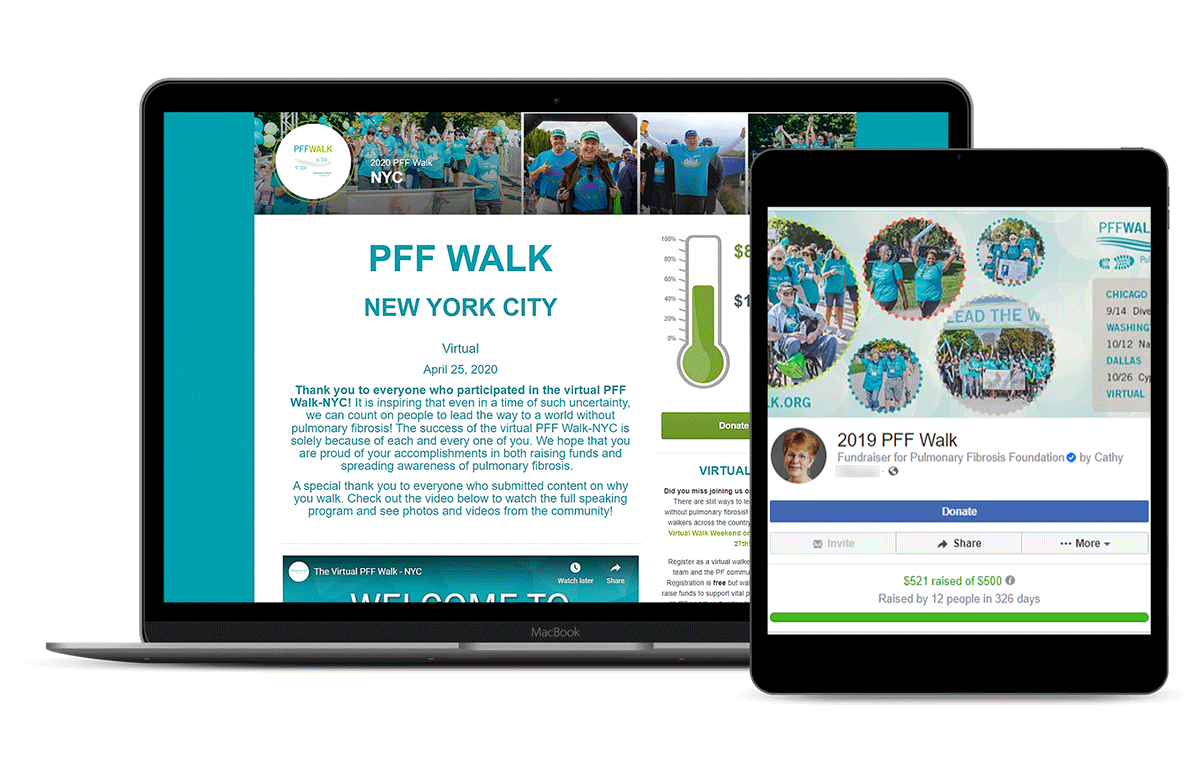 Online fundraising platform overview: Qgiv is an online fundraising platform equipped with a donation form builder, peer-to-peer capabilities, text-to-give, event registration, and auction tools.
Recommended for: Nonprofits that want a flexible, all-in-one online fundraising suite.
Favorite feature: Qgiv's Giving Kiosks allow you to accept donations and registrations from your supporters wherever you are using a tablet. It's a great way to accept donations on the go or at your events.
Pricing: Qgiv's plans start at $0 per month with 3.95% + $0.30 transaction fees. If you do choose a paid plan, you can pay month-to-month without a contract.
4. Classy
Online fundraising platform overview: Classy is an online fundraising platform that helps nonprofits create donation websites, set up recurring giving programs, sell fundraising event tickets, and more.
Recommended for: Nonprofits that are ready to invest in a robust and comprehensive online fundraising platform. With Classy, you get fundraising solutions for website donations, fundraising, events, peer-to-peer, crowdfunding, and more.
Favorite feature: Classy's online donation pages are mobile-friendly and customizable.
Pricing: Contact the Classy team for pricing and let the know the Bloomerang team sent you.
5. PayPal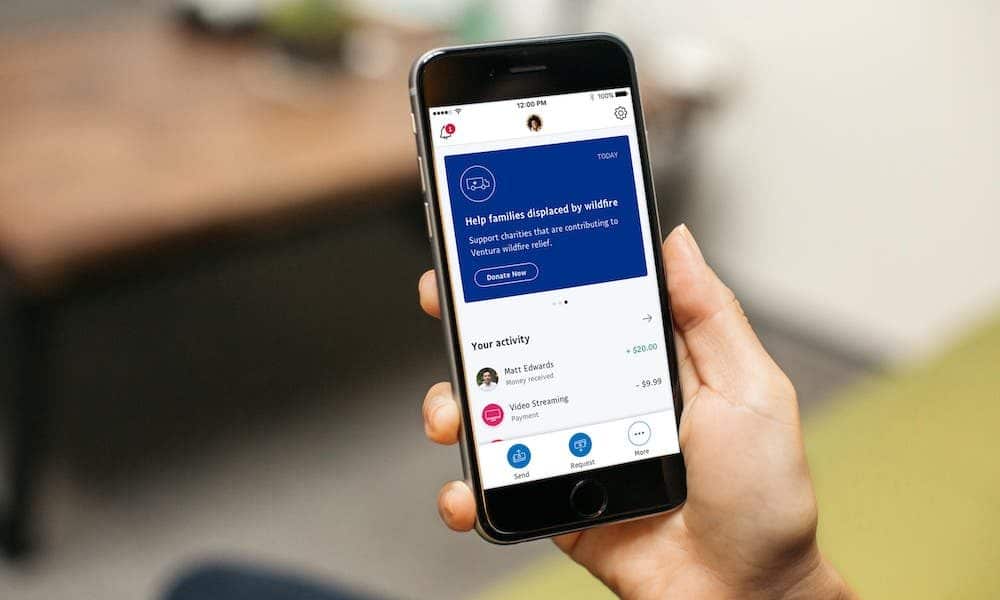 Online fundraising platform overview: PayPal is an online payment processing system that also offers a fundraising platform for nonprofits. Their online fundraising tools allow nonprofits to create an online donation page with the ability to suggest donation amounts, process recurring donations, and accept multiple payment methods.
Recommended for: PayPal is the ideal fundraising solution for new and smaller nonprofits because you'll get trust and affordability in one.
Favorite feature: With PayPal, you can create a customized online giving experience with your own branding, theme, and links.
Pricing: PayPal offers a discounted transaction fee of 2.2% + $0.30 per domestic transaction to eligible 501(c)(3) organizations.
Learn More About PayPal for Nonprofits
6. Handbid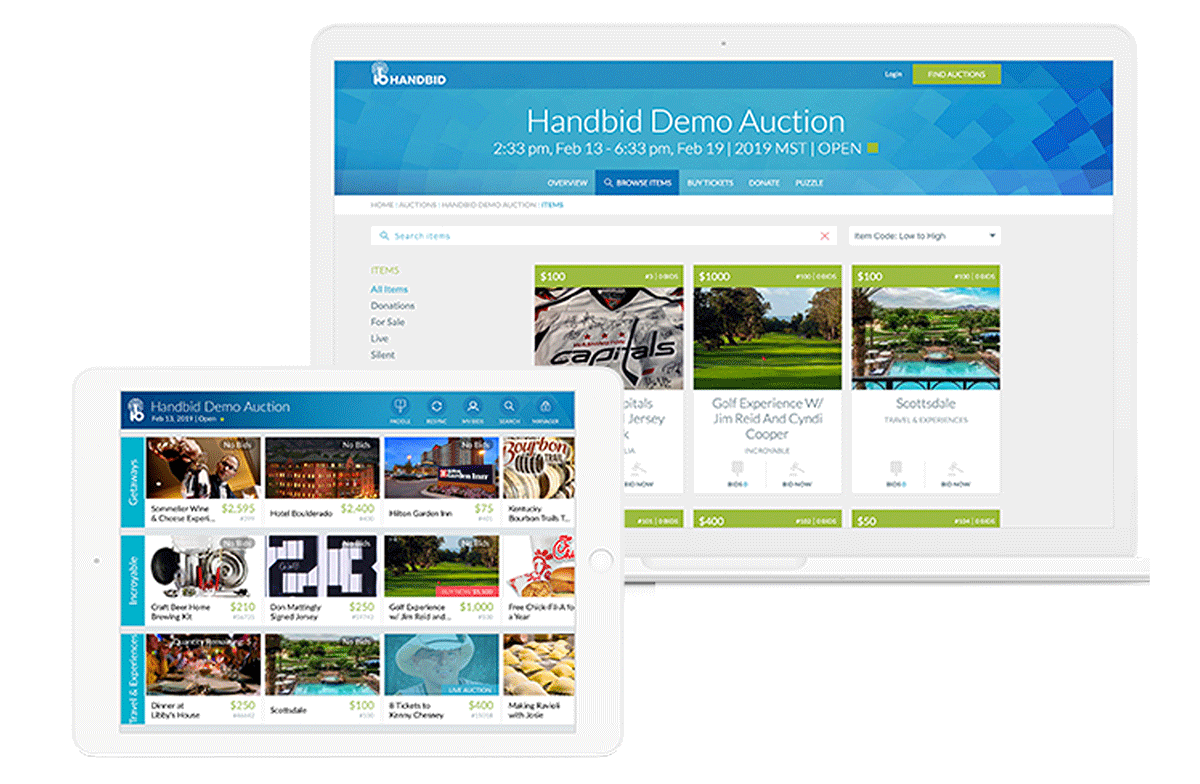 Online fundraising platform overview: Handbid offers auction software and mobile bidding apps to manage in-person, hybrid, and virtual events.
Recommended for: Nonprofits that need a robust solution for auctions, events, and crowdfunding.
Favorite feature: It's rare that you can get the best of a crowdfunding platform and the best of an auction platform together, but Handbid offers both, plus other online fundraising features like donation campaigns and text-to-give.
Pricing: Handbid offers customizable pricing, showcasing several packages to fit your specific needs. The simple auction package starts at $792 per year with the option to add on event ticketing and auction consulting features.
7. RaiseDonors
Online fundraising platform overview: RaiseDonors is an affordable online fundraising platform that enables nonprofits to create and customize online donation pages, integrate with their CRM platform, and equip donors with an easy-to-use self-service portal.
Recommended for: Nonprofits looking for an online giving solution that's simple and quick to get started.
Favorite feature: RaiseDonors makes it easy to identify online giving trends and optimize your donation pages to increase revenue with their giving dashboard.
Pricing: RaiseDonor's pricing starts at $99 per month.
8. GivingFuel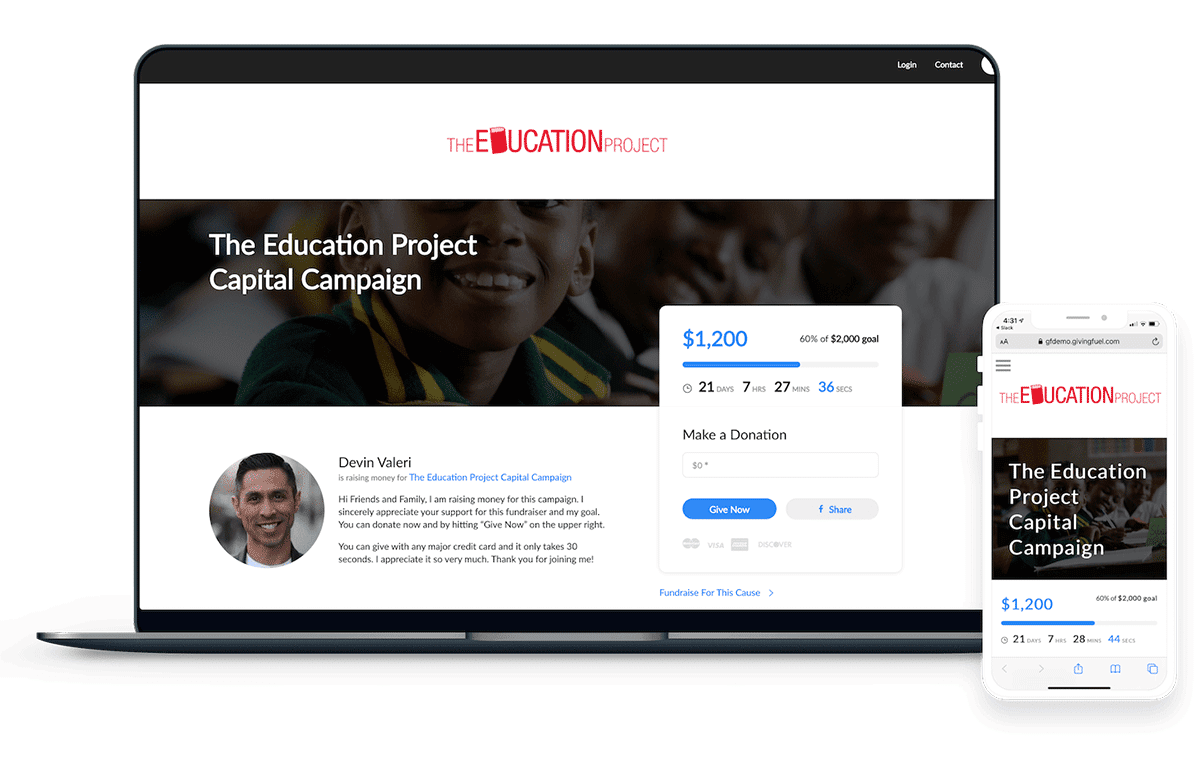 Online fundraising platform overview: GivingFuel is an online giving software that offers all the tools nonprofits need to manage their giving in one place. In addition to a user-friendly donation-page builder, GivingFuel also provides nonprofits with text-to-give features, employer gift-matching capabilities, and even volunteer management.
Recommended for: Nonprofits looking for an affordable, all-in-one solution with giving forms, text-to-give, peer-to-peer fundraising, and event registration features.
Favorite feature: With GivingFuel's conditional logic feature, you can creatively adjust your donation page to provide different donor experiences, such as a free t-shirt with a donation above $100.
Pricing: GivingFuel's pricing starts at $0 per month with 2.99% processing fees for credit card transactions.
9. Shopify
Online fundraising platform overview: Shopify is an eCommerce platform nonprofits can use for merchandise fundraising. Shopify can streamline your online sales whether you're selling items created by your beneficiaries or selling branded merchandise to raise funds for your mission.
Recommended for: Nonprofits looking to expand their eCommerce fundraising.
Favorite feature: Nonprofits can customize their own online store with a user-friendly drag-and-drop store builder.
Pricing: Shopify's basic plan starts at $29 per month. Transaction fees for the basic plan are 2.9% + $0.30. Alternatively, their starter plan is only $5 per month.
10. DonorBox
Online fundraising platform overview: DonorBox is an online fundraising tool that integrates seamlessly with multiple popular content management systems. This platform provides nonprofits with tools such as streamlined donation forms, customizable donation buttons, and engaging crowdfunding campaigns.
Recommended for: Nonprofits looking to integrate online fundraising tools into their WordPress, Wix, Weebly, Squarespace, or Webflow websites.
Favorite feature: DonorBox's UltraSwift checkout feature allows donors to complete donations in just a few clicks without having to input any personal information.
Pricing:Pricing for the DonorBox standard plan includes a 1.5% platform fee + payment processing fee.
11. GoFundMe Charity
Online fundraising platform overview: GoFundMe is a well-known fundraising platform many individuals use to fundraise for specific needs or causes. Nonprofits can also use this platform to launch crowdfunding campaigns and raise funding and awareness for their missions.
Recommended for: Nonprofits looking for a free online fundraising platform with powerful solutions for events, peer-to-peer fundraising, online donations, and crowdfunding.
Favorite feature: DIY Fundraising empowers supporters to engage in grassroots fundraising initiatives for your nonprofit. Alongside their peer-to-peer and crowdfunding solutions, GoFundMe will give you the tools you need to power your supporters' fundraising efforts.
Pricing: If you're looking for an affordable online fundraising platform, we recommend GoFundMe Charity. They offer a free plan with a 2.9% + $0.30 transaction fee.
Wrapping up
With the right solutions in your nonprofit's toolkit, you can make online fundraising a smoother process for your team and supporters.
Interested in learning more about online fundraising and how to make the most of your fundraising platform? Review these additional resources:
Schedule a live demo with our partner Bloomerang, and we'll show you how easy it is to create and automate reports, utilize online and offline fundraising tools, quickly integrate and access all your data, and ultimately create more time to engage your donors.