Our Favorite Monthly Giving Program Examples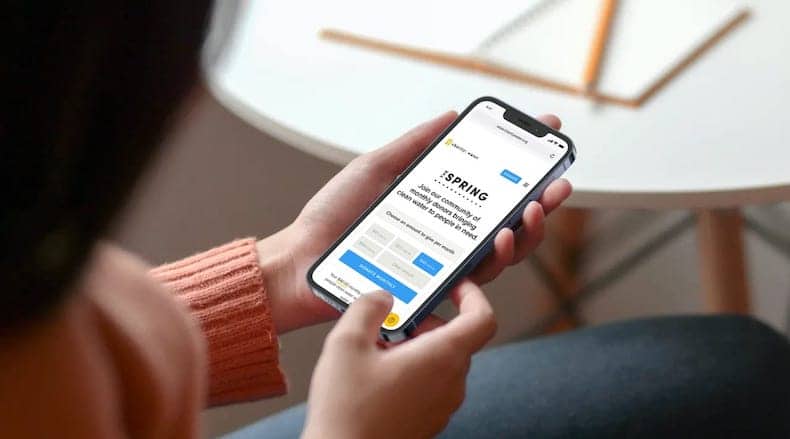 In our new free ebook, How To Use A Monthly Giving Program To Boost Recurring Donations, we shared our recommendations for how to build your monthly giving program, as well as examples from other nonprofits that have created successful recurring giving programs.
In this blog post, we dive into some of those examples so you can take cues from them when building out your program.
Designing and naming your monthly giving program
When thinking about your giving program, you should keep your nonprofit's branding and story in mind. This is especially important when it comes to naming your monthly giving program. When you come up with a name for your giving program, keep these tips in mind:
Make sure the name is consistent with your organization's brand. Think about images, colors, or themes that are associated with your branding.
Make sure the name is at least a little bit different than your organization's name. You don't want the name to be exactly the same because you're looking to differentiate the two and provide a sense of exclusivity for your monthly giving program participants.
Think about what story you want to tell with your giving program. How can the name of your giving program reflect that story? Make sure the name provides both tangible and intangible images that connect your donors with your mission.
Emphasize the partnership between your monthly donors and your organization's mission. How can you make them feel like they're important collaborators?
Here are some examples of our favorite monthly giving programs, including what we think they did well.
1. TWLOHA: TWLOHA Blue

Source: TWLOHA
The name
We love that TWLOHA shares the meaning of their program name right on their donation page: "From the blue stitches on the first TWLOHA T-shirt, the color our team calls 'TWLOHA Blue' has become a powerful reminder to stay true to our mission, knowing what's at stake."
The name comes from one of the organization's brand colors, providing a tangible image that the donors will be familiar with. For your monthly giving program, look at your logo, brand colors, and fonts. Does an image come to mind that's consistent with your mission?
What we think they did well
As you can see, the organization set a public goal and is keeping track of it on the giving program page with a fundraising thermometer. We recommend setting a goal—even if you don't make it public—so you can gather data, track your progress, and adjust your tactics in the future.
By listing the number of TWLOHA Blue members and including their names on the page, the organization is inviting supporters to become part of a community. You may not want to list numbers or names on your giving program page, but the more you can do to make the supporter feel like they're part of something important and exclusive, the better.

Source: TWLOHA
Another way the organization makes members feel special is by incentivizing them to donate. TWLOHA Blue members will receive monthly updates from the team, perks on their birthday and discount codes to the organization's Online Store, and a TWLOHA Blue Partners Coin. Members receive additional perks based on their giving levels, all of which tie back to the organization's brand.
Finally, we like that TWLOHA created a short tagline for their program: help hope go farther. It's a simple but strong reminder of what the donor is helping the organization do.
charity: water: The Spring

Source: charity: water
The name
"The Spring" brings to mind the tangible image of building wells and bringing water to underdeveloped areas. Powerful names bring together both the tangible images and intangible emotions that come with those images.
Think about the work your organization does. Are there any tangible images that could serve as your giving program's name? What feelings might the image bring to mind for the donor?
What we think they did well
On their giving page, charity: water has strong visuals that immediately grab the supporter's attention and remind them how important their support is. If you have photos or videos that tell your nonprofit's story, this would be a great place to include them!
The organization uses this page to educate the donor on their history and mission, while talking about how the giving program ties into the organization's work.
By inviting supporters to sign up to receive a monthly impact report, they're encouraging the donor to get more invested and take an active role in the mission. There's also the powerful message of "You belong here," which is followed by photos and testimonials of other people who have joined The Spring.


Source: charity: water
While they didn't share every person's name or the total number of people who are part of the program, they do note that the community is made up of people from more than 100 countries. Perhaps the most important thing charity: water does is state exactly what impact the program has had on the mission. As of the time of writing, The Spring community has funded clean and safe drinking water for more than 846,158 people in 21 countries around the world.
She's the First: The Front Row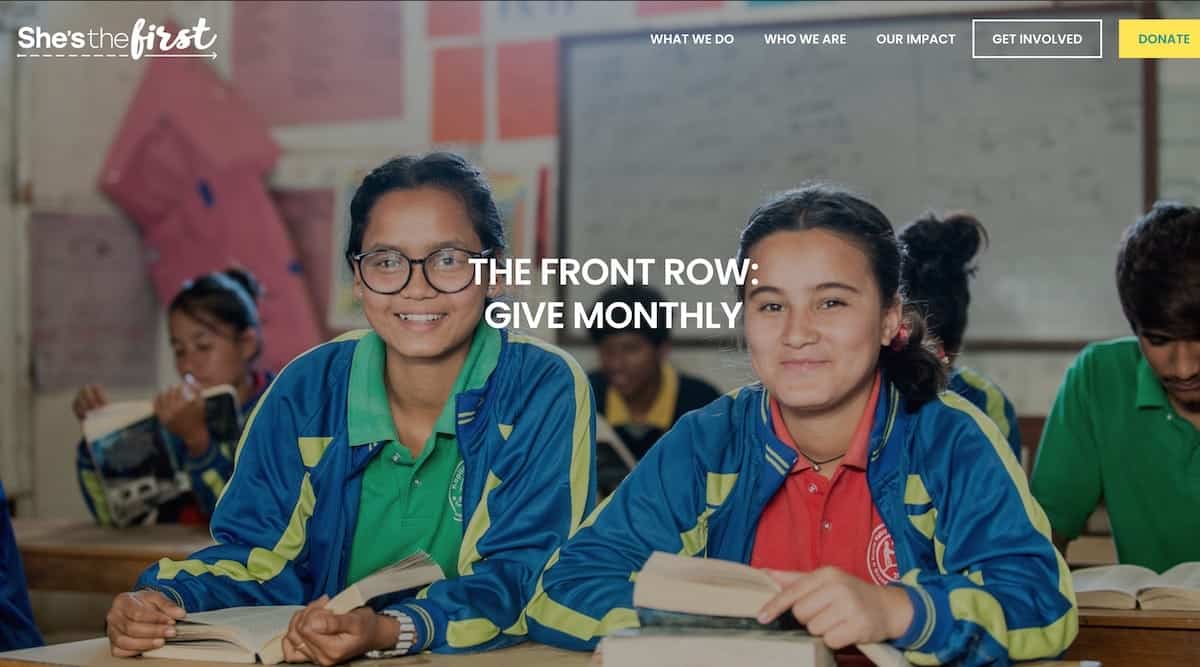 Source: She's The First
The name
When we asked Henah Parikh, the former Development and Communications Manager for She's the First, about the name of She's the First's giving program, she said, "Our work chiefly supports girls' education and rights, and so we wanted to play with that 'classroom' theme a bit. Commonly, students who sit in the front row are usually the most engaged, and that paralleled nicely with our monthly donor community."
The Front Row is an image that connects directly with She's the First's education initiatives. It also has a meaning beyond the image that connects with the donors and invites them to engage with the organization's mission. How can the name of your program invite your donors to feel engaged and connected with your work?
What we think they did well
One thing we like about The Front Row is that She's the First has given each donation level a name. For example, donors who give more than $100 per month to the organization are called Girl Champions. Other donor level names include Equality Advocates, Academic Ally, and Monthly Changemakers.

Source: She's The First
By listing the names of each donor under their donor level, they're visually showing the community that prospective donors can join when they sign up to give monthly.
You can learn more about how they got started, how they promote the program, and what advice they have for other nonprofits in our interview with She's the First.
Doctors Without Borders: Field Partners

Source: Doctors Without Borders
The name
Although Doctors Without Borders doesn't have a name for their giving program, they do name the donors. By calling them Field Partners, Doctors Without Borders is emphasizing that the donors are just as important to the work they do out in the world as the members of their own organization. In short: Doctors Without Borders couldn't do the work they do without their support.
Consider extending the name of your giving program to your monthly donors too. What can you call them that will make them feel even more ownership of your mission? How can you make them feel like partners in your work?
What we think they did well
One thing we like about what Doctors Without Borders did on their giving program page is that they broke out each donation tier based on the impact it will have and then immediately followed that section with information on how the donations are making a difference in the work the organization is doing today.

Source: Doctors Without Borders
Doctors Without Borders also embedded a video thanking donors on that page, which is one more way of showing how much they appreciate the people supporting their mission.
---
To see the rest of our tips for creating a monthly giving program and inviting your supporters to become recurring donors, download the free ebook.
Schedule a live demo with our team, and we'll show you how easy it is to create and automate reports, utilize online and offline fundraising tools, quickly integrate and access all your data, and ultimately create more time to engage your donors.