What is Nonprofit CRM Software? 9 Best Solutions in 2023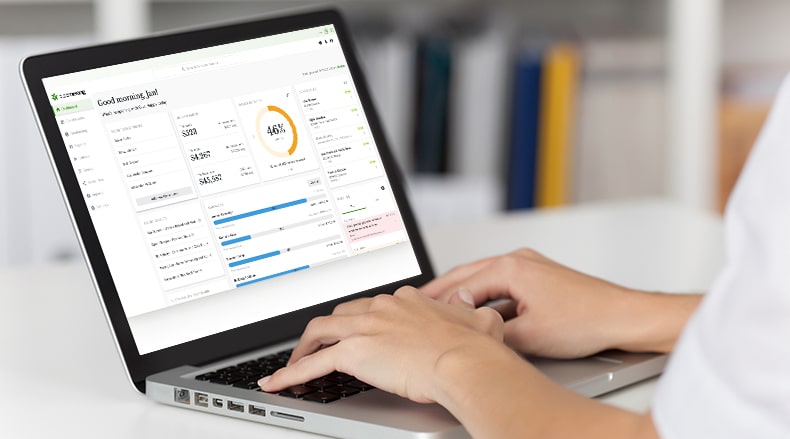 A nonprofit CRM, also known as donor management software, helps organizations understand and grow their relationships with donors. According to the Nonprofit Tech for Good 2023 report, 67% of nonprofits use a CRM to track donations and manage communications.
As a nonprofit professional, it's important to understand exactly how a CRM can improve your nonprofit's data reporting and relationship management. You may also be looking to upgrade your current CRM system. If so, you're in the right place!
In this guide, we'll explore the basics of nonprofit CRMs and a few top platforms to consider. Here's what to expect:
The right CRM can optimize your nonprofit's fundraising efforts for years to come, making it worthwhile to spend some time finding the best solution for your needs.
What is a CRM for nonprofits?
A nonprofit CRM allows nonprofits to store, report on, and update donor data. You may have also heard this software referred to as a nonprofit database or a donor management system.
This tool organizes donor data, identifies giving trends, and makes recommendations to increase the likelihood of receiving future donations.
CRMs are also used in the for-profit sector to manage customer relationships. Some CRMs can serve both nonprofits and for-profits, but a dedicated system for your specific organization type is always best. Nonprofit CRMs offer nonprofit-specific tools, such as donor engagement metrics and online giving functionality.
Though there are some alternatives to using a CRM, it's widely considered the best way for organizations to analyze all their data and keep it secure.

How does a nonprofit CRM help with fundraising?
A CRM for nonprofits is a great alternative for organizations that have outgrown spreadsheets and want a platform where they can leverage their data to improve their fundraising campaigns.
A nonprofit CRM can help with fundraising by predicting which donors are the most likely to give in larger amounts, showing if and how donors are connected, and offering insight into their giving habits. For instance, with Bloomerang's CRM solution, you can track how often donors give and predict when and how much they are likely to donate in the future.

Benefits of nonprofit CRM solutions
The right CRM can help nonprofit professionals find the data and donor information they need in a matter of seconds, saving time and resources. That way, they can invest more of their energy in their organization's mission.
Here are some ways a nonprofit CRM can help your organization simplify its daily activities:
Task automation
Task automation can save plenty of time for your donor relations team members, sometimes saving even full work days that would otherwise be spent conducting manual data tracking and uploads.
A nonprofit CRM automates reporting, creates donor groups, identifies potential major donors, and integrates with your email marketing platform. All of these functions create a more personalized donor experience and a simpler user experience for your team.
Easy-to-access donor information
With a CRM, you can find any donor information you need in just a few clicks. Whether you need to update a donor's address or remind yourself of the last time a donor gave, your CRM makes it easy to search for this information.
Contact records and task reminders
A powerful CRM offers features that streamline relationship management. For example, contact profiles give you a detailed record of every interaction you have with donors. Assess when your donors last gave and how much they gave. See what emails you've sent them and what you talked about during your phone calls or in-person meetings. Set reminders to schedule a thank you phone call with your major donors so no one falls through the cracks.
Actionable analytics and reporting
Your nonprofit manages a lot of data. If you don't have a CRM, your data is likely spread out in several different platforms, including your email marketing platform, online fundraising platform, and payment processor. With a CRM, you'll be able to keep all your valuable data in one location.
Your nonprofit CRM should also be able to run reports to help you identify your lapsed donors or a first-time givers report so you can send these individuals a welcome email series. Plus, a nonprofit CRM can give you high-level insights into your organization, showing visuals like a donor pyramid or donor lifecycle. This makes it easy for you to see the health of your organization at a glance.

9 top CRMs for nonprofits
To help you find the right nonprofit CRM for your needs, we've compiled a list of top solutions to explore. Compare features, pricing, and other aspects to find an option that aligns with your goals.
1. Bloomerang
When it comes to robust features, valuable integrations, streamlined reporting capabilities, and professional support, Bloomerang stands out as one of the best CRM solutions for nonprofits. Bloomerang's nonprofit CRM offers an interactive dashboard, constituent timeline, and data segmentation to help personalize donor interactions and understand your supporters on a deeper level.
Plus, with Bloomerang's fundraising tools, you can get the best of a nonprofit CRM and online fundraising platform all in one. Create streamlined donation pages and easily add them to your website and share them via your social media platforms and in emails to your supporters.
Here's a look at the tools you'll gain access to using Bloomerang's nonprofit CRM:
A donor database that performs engagement analysis to identify valuable fundraising opportunities hidden in your supporter base.
A marketing platform that allows you to send personalized emails and letters, document relationships, and thank donors right after they give.
Online giving tools that allow donors to give from anywhere at any time. Plus, Bloomerang offers valuable peer-to-peer and crowdfunding tools to power supporter-driven campaigns.
Reporting and analytics tools that provide valuable insights into your donors' giving habits and help you track fundraising progress.
A best-in-class payment processor that simplifies payments with straightforward transaction processing.
Bloomerang starts at $119 per month and scales up from there based on the number of records or contacts in your system.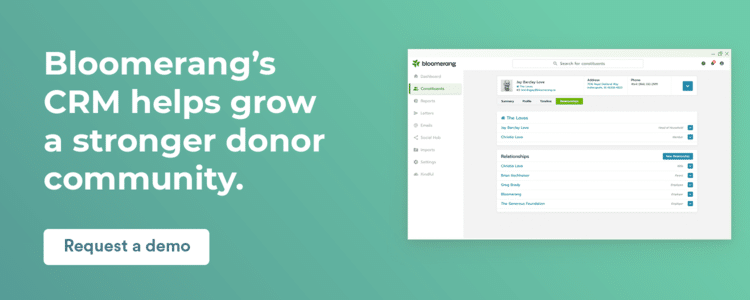 2. Salesforce
Salesforce is the most widely used CRM software for businesses. Salesforce offers a nonprofit solution called the Nonprofit Success Pack (NPSP).
The NPSP offers features such as:
A supporter database to assess donor and volunteer information from one platform.
Over 70 reports and dashboards tailored to the nonprofit sector.
Tools to manage and grow recurring giving.
Your first 10 Salesforce subscriptions are free.
3. Blackbaud Raiser's Edge NXT
Blackbaud Raiser's Edge NXT is a fundraising and donor management platform that prioritizes helping nonprofits increase their number of donors and gifts and grow their overall fundraising revenue.
This nonprofit CRM offers features like:
AI-driven suggested donation amounts for your online giving form
Prospective donor insights based on capacity and propensity to give
Automated data health tools to keep your internal information updated and accurate
Contact the Blackbaud team for pricing.
4. Virtuous
Virtuous is a responsive nonprofit CRM devoted to helping organizations craft a personalized experience for donors at every level.
Virtuous equips nonprofits with the following features to achieve this goal:
Automated donor stewardship processes, such as moves management and prospect identification
Multichannel communications across email, SMS messaging, and direct mail
360-degree donor views and flexible dashboards to assess all donor engagement efforts at a glance
Pricing starts at $400 per month.
5. Classy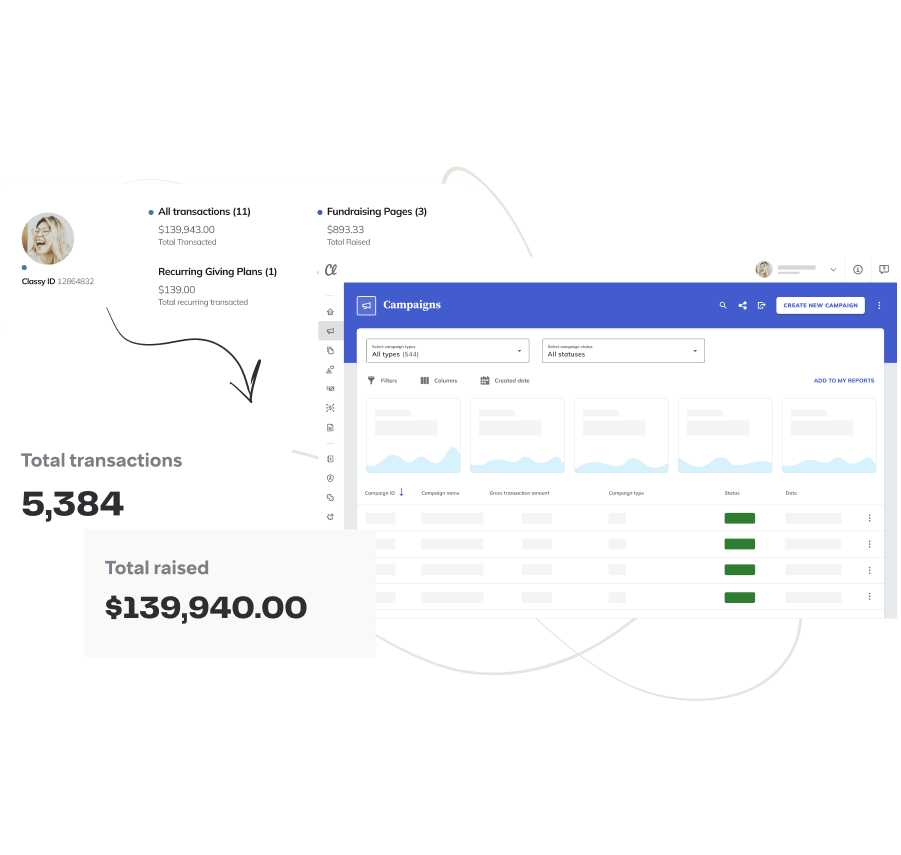 Classy helps nonprofits raise more through a robust online fundraising platform and a central supporter management CRM.
Manage fundraising campaigns with features like:
Search, filter, and segmentation features to group supporters and create more targeted outreach.
Automated email functionality to steward donors and remind them of their impact
Maintain donor data security with Level 1 PCI compliance and SSL Security
Classy offers custom pricing for different packages.
6. DonorPerfect
DonorPerfect is a nonprofit CRM and fundraising hub for coordinating donor management efforts, fundraising campaigns, and marketing strategies all in one platform.
The platform's tools include:
AI-based solutions to predict new donor acquisition, retention, and upgrades
Monthly giving management to automatically process payments and provide donors with payment flexibility
Annual appeal support through branded forms, integrated payment processing, and custom reports
Contact DonorPerfect for a personalized price quote.
7. CharityEngine
CharityEngine's donor management solution helps nonprofits keep donor information at their fingertips with automation and multichannel communication features.
Charity Engine equips nonprofits with:
Enterprise-level marketing and email communications
Membership management tools that help keep information organized across chapters
Automated reports and advanced queries to access strategic insights
Pricing starts around $350-$700 per month.
8. Keela
Keela's donor management system helps nonprofits increase donor retention with personalized stakeholder engagement strategies and efficient fundraising tools.
Additional features of this platform include:
Data analytics tools that offer real-time insight and predict donor behaviors
Track donors' stories to personalize their journey and unlock hidden giving potential
Keep up with donors' communication preferences to reach out in ways that resonate
Keela's pricing starts at $134 per month.
9. Little Green Light
Little Green Light is an all-in-one donor management platform and fundraising tool that can grow alongside your nonprofit as it expands its reach.
This CRM offers tools such as:
Goal-tracking features to measure progress and assign tasks
Gift tracking for all types of donations, from matching gifts to in-kind donations
Streamlined online donation tools that automatically update constituent records
Little Green Light's pricing starts at $486 annually.
Features to look for in a nonprofit CRM
When reviewing nonprofit CRM features to find the right solution for your organization, look for the following features:
Fundraising tools
Your nonprofit CRM's fundraising tools should allow you to easily create online fundraising campaigns and pages and add them to your website, social media, and email marketing campaigns.
Your fundraising tools should also give you a deeper understanding of how your donors give, whether it's online, in person, or through other giving channels. You should be able to seamlessly transfer donor data from your fundraising tools to your CRM database to add new donor information to your records.
Donor communications
Donor communications features give you the ability to automatically send fundraising receipts, create to-do lists for your team, and thank donors when they give to your organization. Most tools will also allow you to segment your donors by specific filters and then easily add them to a group based on shared characteristics. Then, you can effortlessly send letters to different segments and sync them with your email marketing platform.
Donor management
With donor management tools, you can track all of your fundraising efforts, communications, and other essential activities. You'll also be able to understand your donors better with key insights on big-picture trends alongside day-to-day specifics.
Tracking and reporting
Most donor management tools also offer tracking and reporting features, meaning you can quickly spot trends and immediately take action to improve the health of your organization. You can also build, save, and schedule custom reports to easily access the information that matters most to your organization.
Integrations
You're likely already using software for online fundraising, payment processing, accounting, and communication. The good news is that you don't have to give up the tools you're already using when you invest in a nonprofit CRM that offers robust integration options.
Review each of your CRM options to determine whether they integrate with:
Email marketing providers like Mailchimp and Constant Contact
Event and auction platforms like Eventbrite and Handbid
Fundraising tools like GoFundMe Charity and Qgiv
Payment processors like Stripe, PayPal, and Square
Accounting software like QuickBooks
Support and training
Even the most tech-savvy users will likely need help with their CRM at some point. Your CRM provider should be available to help when you need it.
Here are some types of support to ask about:
Onboarding and data migration. When you invest in a new CRM, you'll need to migrate your donor data to the system. Does the CRM provide a service to help organize your data in their platform?
Customer support. Does the CRM offer free email and phone support? Do they have a help center where you can find articles about the platform?
Ongoing training. Does the CRM provide ongoing training to help you make the most of the platform?
Nonprofit and fundraising consulting. Does the CRM provide any fundraising consulting services?
The bottom line
At the end of the day, prioritizing your donors requires prioritizing your donor data. With a nonprofit CRM, you can improve your donor relationships and ultimately maximize your positive impact on the world.
Review these additional resources for more information about using your nonprofit software to the fullest: