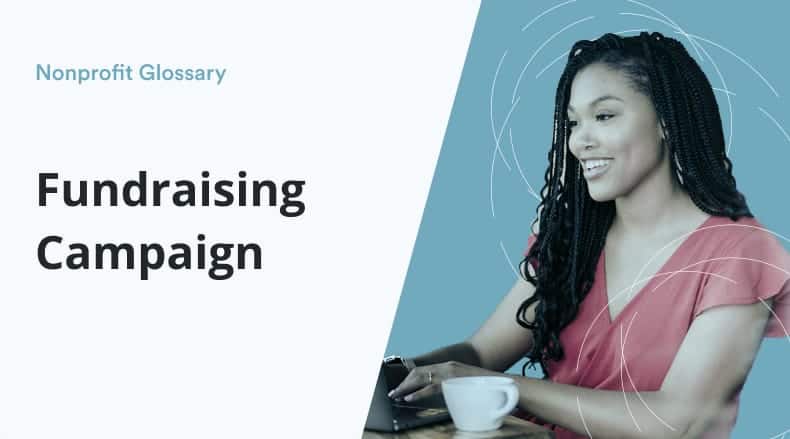 What Is A Fundraising Campaign?
A fundraising campaign is fundraising that happens over an extended period of time and highlights a specific, predetermined goal.
Nonprofits use fundraising campaigns to raise awareness about their missions, and more specifically, the program or initiative for which they are currently soliciting donations.
Types Of Fundraising Campaigns
Capital Campaign
A capital campaign is a concentrated effort to solicit major gifts and raise a large amount of money within a defined amount of time for a specific cause or project. Capital campaigns are typically used for large projects like building renovations or purchases.
Giving Tuesday Campaign
Giving Tuesday is a global day of giving held every year on the Tuesday after Thanksgiving. A Giving Tuesday campaign drives large amounts of people to donate on one particular day and acts a way to boost end-of-year giving as nonprofits prepare to wrap up the calendar year (and their revenue goals).
Advocacy Campaign
An advocacy campaign is designed to create support for a specific policy. The goal of an advocacy campaign might be to draft and pass a new law, amend an existing law, or reform an aspect of the judicial system.
Awareness Campaign
Awareness campaigns aim to educate people and raise public awareness about an organization's cause or issue. The emphasis is on education about the nonprofit's cause in hopes of raising support for it.
Annual Giving Campaign
Annual giving campaigns are campaigns designed to raise annual funds, which are funds that go toward an organization's annual revenue goal. Annual giving campaigns happen regularly throughout the year and come in various forms.
Text-To-Donate Campaign
Text-To-Donate campaigns allow people to give money to your organization from their cell phones via text message.
Social Media Campaign
A social media campaign is a fundraising campaign in which social media is used as the main avenue for soliciting donations.
Peer-To-Peer Fundraising Campaign
Peer-To-Peer Fundraising is when individuals organize their own personal campaigns to raise support for a cause by soliciting donations from their peers. Peer-to-peer campaigns usually involve the use of social media and other online platforms, as these tools make it easy to connect with a wide network of people.
Crowdfunding Campaign
Crowdfunding campaigns allow nonprofits to fund a project through many small donations given by individuals. Crowdfunding can happen in person or through the internet.
Year-End Campaign
Giving statistics show that December 30 and 31 are the biggest giving days of the year. Year-end giving campaigns are a way to capitalize on the end of year boost in donation volume. They also help jumpstart the organization's revenue stream for the year ahead.
Online Fundraising Campaign
Online fundraising campaigns are fundraising campaigns that live entirely on the internet. Online campaigns use email, digital advertising, and social media to spread their message and ask for support from their audience.
Major Gift Campaign
Major gift campaigns are designed to specifically target major givers and bring in large individual donations. Major gift campaigns are helpful when the organization is in need of a large sum of money to complete a specific project, like the creation of a new program or construction of a new building.
Bottom Line
Fundraising campaigns reiterate the organization's mission and help nonprofits connect with donors in a meaningful way that leads them to give.
Related Resources: