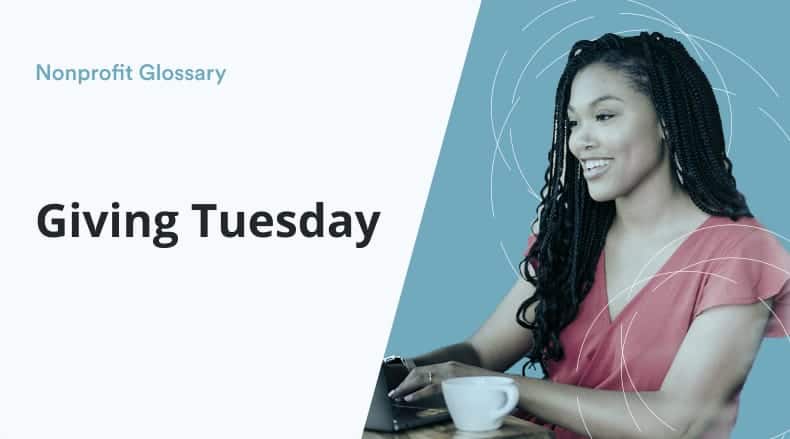 What is Giving Tuesday?
Giving Tuesday, often described as a global day of giving or a global generosity movement, is held each year on the Tuesday after Thanksgiving. On Giving Tuesday 2021, nonprofits in the U.S. alone raised $2.7 billion. 
The giving movement is also sometimes stylized as GivingTuesday or #GivingTuesday.
What is the history of Giving Tuesday?
According to GivingTuesday.org, this day of giving was founded in 2012 by New York's 92nd Street Y in partnership with the United Nations Foundation as a day that encourages people to do good. In July 2019, GivingTuesday spun out into its own organization, led by GivingTuesday co-founder, Asha Curran, as its CEO.
Why do nonprofits participate in this global day of giving?
Outside of awareness days, days that are significant for individual causes or organizations, or national or international crises, there are few opportunities to drive significant attention among a larger audience.
Giving Tuesday presents nonprofits with a day full of opportunities. Because many members of the general public now know what it is and may even set aside money each year to donate on that day, it's the perfect chance for nonprofits to highlight their missions, solicit donations, and gain new supporters. Nonprofits looking to increase visibility and capitalize on a day of giving would be smart to participate.
Because nonprofit organizations have varying resources, sometimes a nonprofit's involvement may be as simple as sharing a single social media post or sending an email newsletter. 
When is Giving Tuesday?
Giving Tuesday 2023 will be Tuesday, November 28. The date is always the Tuesday after Thanksgiving each year. Because Thanksgiving is the fourth week of November, Giving Tuesday either falls on the last Tuesday of November or the first Tuesday of December. 
Giving Tuesday Dates
| Year | Date |
| --- | --- |
| GT 2023 | Tuesday, November 28 |
| GT 2024 | Tuesday, December 3 |
| GT 2025 | Tuesday, December 2 |
Considered by many as the day that kicks off the giving season, it directly follows three major shopping days: Black Friday, Small Business Saturday, and Cyber Monday.
Because it usually falls on a day in late November or early December, some nonprofits use the day as an opportunity to launch end-of-year giving campaigns to take advantage of people making their final tax-deductible donations for the year. Nonprofits benefit from the generosity of those wishing to make a positive impact during the holiday season.
What are the best ways to raise money on Giving Tuesday?
When it comes to developing your Giving Tuesday campaign, there's no shortage of ideas. Your campaign should be attention-grabbing and engaging for supporters. A few effective, engaging campaign ideas include:
A peer-to-peer fundraiser where supporters create personalized donation pages and collect gifts on behalf of your organization
A text-to-give campaign where your organization sends supporters a link to your online donation page via text message
A pledge drive where you gather pledges from supporters, who promise to fulfill the donations by the end of the year
A social media fundraiser where you share links to your donation page on Facebook, Twitter, and Instagram
A direct mail campaign where you send letters to supporters with compelling images and fundraising requests
Make sure your organization has a streamlined online donation page to simplify the giving process. The page should only ask for necessary information, like donors' names, contact information, and payment details. To drive traffic to this page, use a variety of call-to-action (CTA) buttons throughout your website to make your donation page easy to find.
Tips for running an effective Giving Tuesday campaign
No matter which fundraising strategy you use, there are standard best practices you should follow to maximize your Giving Tuesday campaign results. Keep these tips in mind when developing your Giving Tuesday strategy:
Start planning early. The more you spread the word about your Giving Tuesday campaign, the more money you'll be able to raise. Start planning your campaign a few months in advance to have a clear game plan for developing your fundraising ideas, branding your campaign, and promoting your giving opportunities.
Set a goal. Assess your past Giving Tuesday performance to set a reasonable but ambitious goal. For example, if you raised $30,000 with last year's campaign, you might set a goal to raise $37,000 this year.
Set a communication schedule. Create a plan for sending out an email series to supporters in the weeks leading up to Giving Tuesday. Share impact stories with photos and videos of the community members who will benefit from their Giving Tuesday donations.
Reach out multiple times on Giving Tuesday itself. Generate awareness and enthusiasm on the giving day itself by staying active on social media and sending one or two emails throughout the day. You can also use a tool like a fundraising thermometer on your website to showcase progress toward your goal.
Share your appreciation. Ensure donors know how much your organization values and appreciates them by sending out immediate thank you messages after supporters give. After Giving Tuesday concludes, send out another, more detailed thank you email with information about whether you met your goal and how you'll use donations going forward.
With these guidelines in mind, you should be able to plan an effective Giving Tuesday campaign that sets the groundwork for future donor engagement.
The bottom line
Giving Tuesday is a day that encourages people to give back in whatever ways they can. It presents nonprofit organizations with the chance to raise even more money than they would on an average day, which is why many organizations create special campaigns to participate.
For more, check out our Giving Tuesday Resources for Nonprofits.