Accept Donations With Apple Pay And Other Express Payment Methods
As Apple Pay and Google Pay become more commonplace, consumers are coming to expect simpler, faster, and more secure ways to pay for things online. As consumers advance, donors also expect to utilize these same payment methods when donating online.
To continue exceeding the donor's giving experience, our team is excited to roll out express payment methods to our hosted donation pages for customers using Kindful Payments.
Heading into Giving Tuesday and the year-end giving season, this new feature comes just at the right time, reducing the time it takes to give during the busiest time of year.
Donors can give quickly and confidently using an express payment method.
With our built-in donation pages, our team is hyper-focused on a seamless and secure experience for the donor. Adding express payment methods keeps these standards moving forward in an era that increasingly focuses on online fundraising.
Express payment options will automatically show for the donor based on their device and browser. For example, a donor who lands on your donation page using an iPhone will see this option to donate using Apple Pay.
And with just a few taps or clicks, the donation will be processed—without the donor spending any more time manually entering billing details.
Here's how it looks on a mobile device.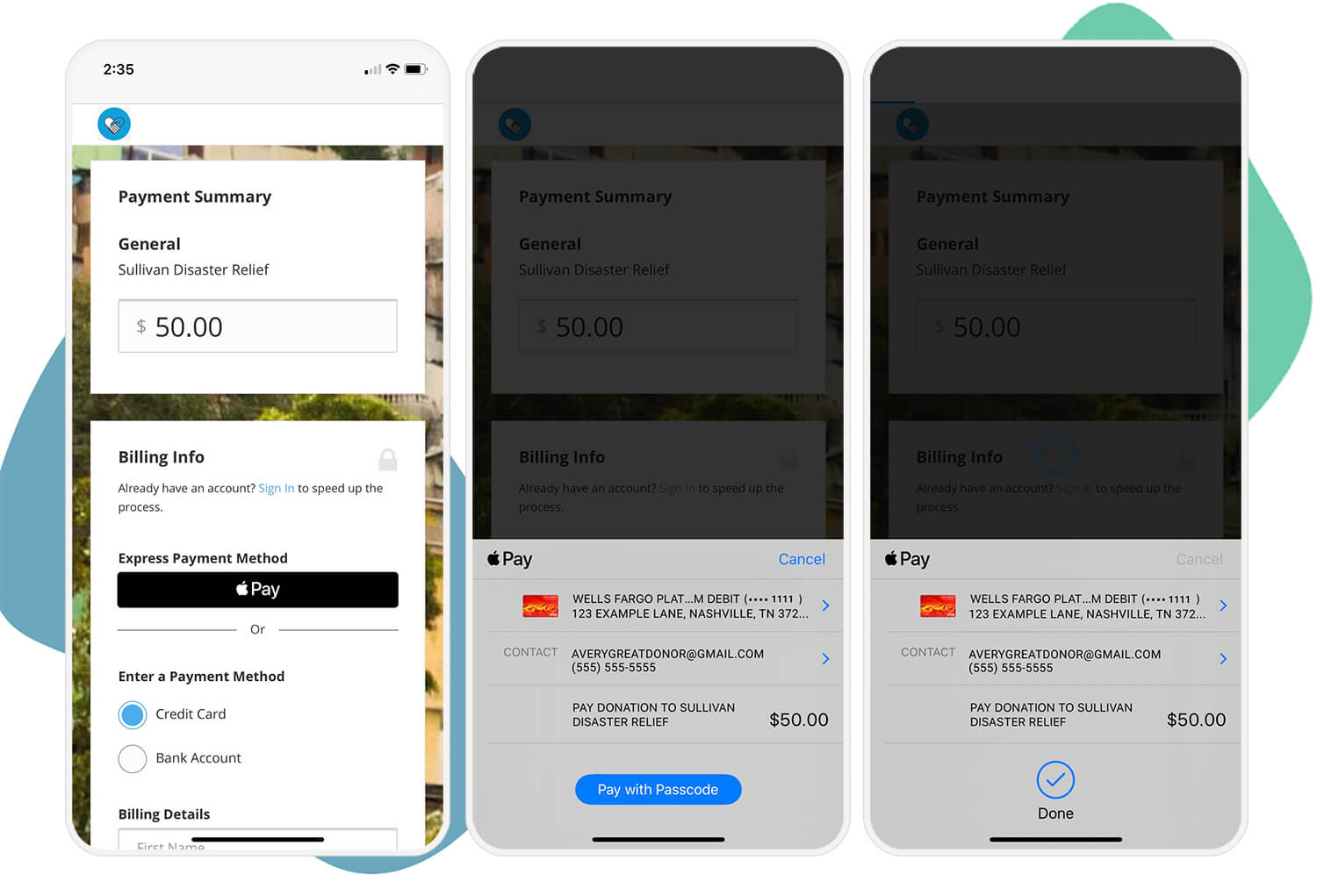 The process works just as well with Google Pay and Microsoft Pay. Your donation page will automatically show the relevant option based on the donor's device and web browser.
Donors can give securely and you can track their gifts seamlessly.
One of the greatest perks to express payments is the confidence of security given to the donor.
Card and billing details have already been entered and confirmed in the device. At the same time, payment providers like Apple and Google promise security protocols at the highest level, ultimately making the gift giving process that much easier to walk through.
With express payment methods, donors have peace of mind about the security of their billing information.
Fortunately, the perks don't end there. Like all transactions with Kindful, the data will integrate seamlessly into your CRM, so you can still track the payment, thank the donor, and show every donation on a year-end tax summary.
Using Kindful Payments and Apple Pay, Google Pay, and Microsoft Pay
For this initial rollout, express payment options will be available to customers using Kindful Payments as their payment gateway. As an industry-leading payment gateway, Kindful Payments is perfectly designed to accept, track, and manage these more advanced payment types.
Like all transactions made through Kindful Payments, the details of every payment are accessible whenever you need. And with in-app reconciliation ability, accounting is more efficient than ever.
While we're here: Our Support and Success Teams are equipped and ready to help you migrate to Kindful Payments if you're using Stripe, PayPal for nonprofits, or another processor. Kindful Payments offers some of the lowest transaction fees, simplified reconciliation, and automatic card updates. We can even assist in migrating recurring payments over from your current processor, so your donations won't skip a beat.
Next steps
If you're already a Kindful customer using Kindful Payments, your donation pages will automatically start showing these express payment options. Feel free to let your donors know about it to encourage some donations!
If you're interested in learning more about these payment methods, you can check out our help article on the new express payments here, or read more about Apple Pay, Google Pay, and Microsoft Pay.
Finally, reach out to our Support Team if you're interested in migrating to Kindful Payments to unlock these new donation methods.
Schedule a live demo with our team, and we'll show you how easy it is to create and automate reports, utilize online and offline fundraising tools, quickly integrate and access all your data, and ultimately create more time to engage your donors.