How To Create A Powerful Donor Thank You Video
Did you know video is the medium where most people consume content? That's why creating a donor thank you video is a creative and memorable way to thank your donors. Whether you just wrapped up Giving Tuesday or your end-of-year fundraising appeal, thanking your donors helps you strengthen your relationship with your donors by letting them know you appreciate them.
The best part is your thank you videos don't have to be fancy, high quality videos. You don't have to pay an expensive videographer or buy any professional equipment. You can pull off a meaningful donor thank you video almost anywhere.
In this post, we'll cover:
1. Decide Who You Want To Feature In The Video
Before you start filming, think about who you want to feature in your video. If you want, it could be as simple as your Executive Director or Development Director expressing their gratitude. Maybe you get your whole staff involved in some way. Or, if it's appropriate, you can consider including your beneficiaries as well. Just make sure you're mindful that you're always dignifying and humanizing your beneficiaries when you put them in front of your donors.
2. Think About What You Want To Say
This step can be as scripted as you want it to be. For some people, it may be easier to simply speak off the cuff. For others, you may want something a little more structured like an outline. A video script isn't necessary unless you really need it. Whatever method you choose, just make sure that you're both succinct and conversational with your speaking style. If you're featuring others in your video like your staff or board, make sure they understand the expectations beforehand, so they can prepare in whatever way is best for them.
3. Pick A Location With A Good Backdrop, Noise Levels, & Lighting
When choosing your location, the first thing to consider is the background. You don't have to buy a professional background screen or spend a lot of time setting this up. Simply work with what you have. Make sure it's clean and professional. You could use a solid wall or wall that displays some of your office decor. Make sure whatever you choose doesn't distract from the main subject.

Source: Wistia
Second, close your eyes and listen to what you hear at the location. Unless you're using professional audio equipment, ensure there's no loud chatter or other distracting noises like trains, cars, or birds outside. This is one reason why filming outside can be risky. Loud background noises can make your video hard to hear and choppy, especially if you have to do any editing.
Last, think about the lighting. You don't have to go out and buy expensive equipment for this. While professionals will set up a three-point lighting system, you don't have to get this technical. Simply use the lighting you have available to make sure your subject is well-lit. You don't want the background to be brighter than the person who's speaking or you run the risk of making your speaker just a shadowy figure.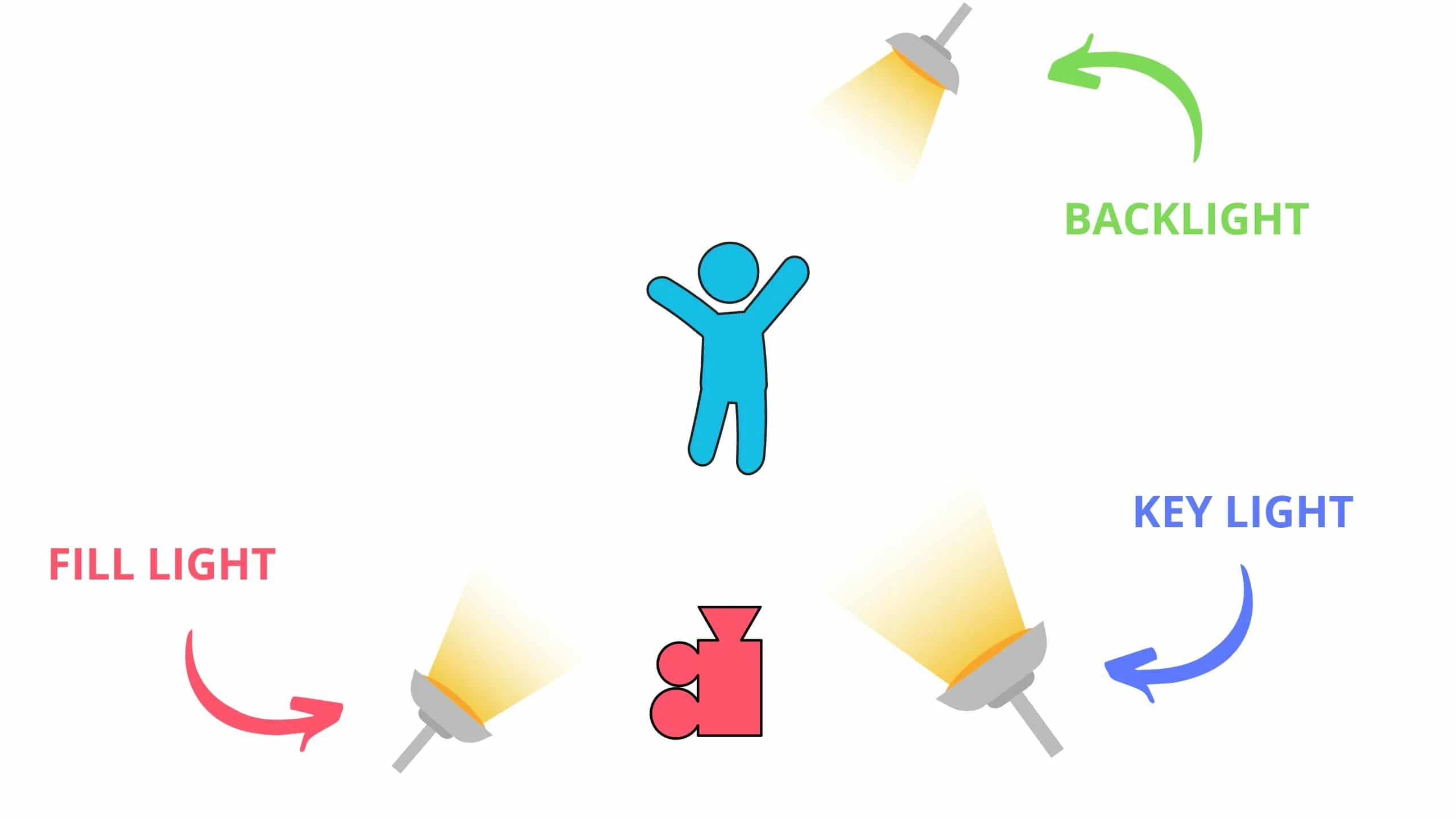 Source: StudioBinder
4. Film The Video
Once you have all the logistics set up, it's time to start filming! Unless you have someone who's already an experienced videographer, don't worry about finding an expensive camera for this. Almost everyone carries around a perfectly good camera in their pocket. Have someone take out their iPhone and just start recording! We recommend turning your camera into landscape mode and getting as close to the speaker as you can to help with audio.
Don't worry about getting a perfect take the first time. If you need to, after you have a few takes you can do some light editing to bring it all together.

Source: Wistia
5. Review The Video
Even if you nailed the first take, make sure you review it before you send it. We recommend having someone else review it too to make sure it looks good and sounds good and that the message comes across effectively. Remember: It doesn't have to be perfect. Just make it heartfelt, personal, and sincere.
6. Trim and Edit If Necessary
After reviewing your video, you may find that you need to do some editing. This may be as light as trimming the start and stop points on your Photos app. But if you need to stitch together several takes or shots, you'll want to use a video editor. We recommend something simple like iMovie; you can even get the mobile app and do it all on your iPhone. As you're editing, we recommend double checking that the length is between 90 seconds and 3 minutes. Don't feel the need to overproduce; just make it tidy and get it ready to send!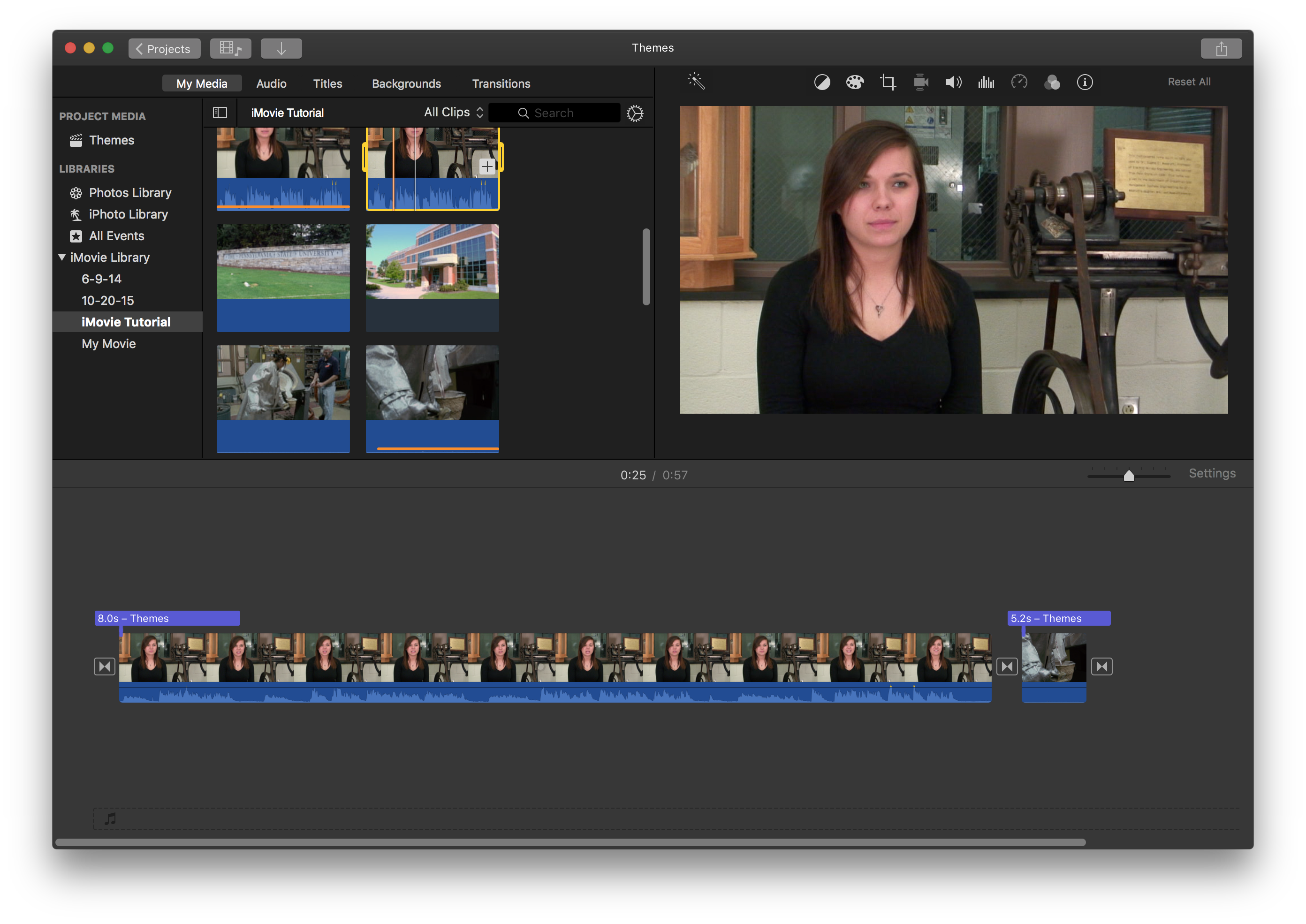 Source: PennState
7. Share!
This is the easy part. Share away! There are a couple of options for sharing. You can share with all your supporters on your social media platforms. Or if you want to keep your audience more targeted, you can use your donor management platform to segment your donors and email it to them personally. How you share your video is up to you!
Tips For Creating An Impactful Donor Thank You Video
When making your donor thank you video, there are three simple tips to keep in mind:
Show The Impact
Donors want to know how their money is being used to help your mission, so make sure you tell them. You can list statistics, include tons of images, or film the people you are helping saying, "Thank you!"
Keep It Short
These videos should be around 90 seconds and no more than 3 minutes long. If people see that your video is longer than 3 minutes, there's a higher chance they won't watch it.
Personalize The Message
If you ran a campaign to raise money for a building, then reference your progress on the building in your video. It really drives your message home to show your donors that you know what they are giving to.
Examples of Best Donor Thank You Videos
To leave with some inspiration, check out the examples of creative donor thank you video ideas we found from nonprofits:
American Cancer Society
American Cancer Society's thank you video is a great example of how to appropriately feature your beneficiaries to show gratitude to donors. Plus, the executive director shares a message at the end to let supporters know that their contributions will continue to make a difference.
Cape Cod Chamber Orchestra
If you're looking for a creative thank you video idea, look no further than Cape Cod Chamber Orchestra. This Giving Tuesday thank you video shows that sometimes, you don't even have to say any words to let your donors know you're grateful.
International Medical Corps
Sometimes simple is better. International Medical Corps streamlined their video production by sharing a video message from their Vice President of Partnerships and Philanthropy. You can produce a video like this simply by recording a video conferencing call.
charity: water
For charity: water's 5th birthday, they sent personalized videos to their supporters.
Nature Conservancy
The Nature Conservancy shows their donors how their gifts are making an impact around the world.
YMCA of Columbia
YMCA of Columbia uses this powerful video to show how they are making a difference in their local community.
Catholic Relief Services
We love the simplicity of this video from Catholic Relief Services that includes one of the organization's team members and their beneficiaries saying thank you.
Filming Your Donor Thank You Video
Our advice? Don't overthink it. You don't need to hire an entire video, lighting, and sound crew. Grab an iPhone, set the scene, and go from there. The most important thing is that you're authentic, and that you don't let barriers get in your way of engaging donors. You can continually learn from your experience and grow in your skills as your organization grows, too!
Learn more about how to run an effective thank you campaign.
Schedule a live demo with our partner Bloomerang, and we'll show you how easy it is to create and automate reports, utilize online and offline fundraising tools, quickly integrate and access all your data, and ultimately create more time to engage your donors.