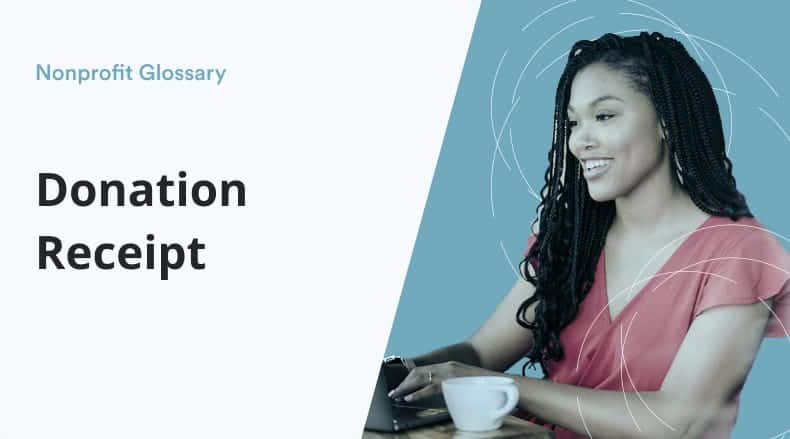 What is a donation tax receipt?
Donation receipts, or donation tax receipts, are a form of donor communication that provide official documentation of a gift made by a donor. Donation receipts (often written in the form of an acknowledgment letter) let the donor know that their donation has been received and gives the nonprofit an opportunity to express their gratitude. Nonprofits also use donation receipts to provide donors with important information needed for tax purposes.
What's the best format for your donation receipt?
Due to the important information contained within a donation tax receipt, there is a specific format they must follow. All donation tax receipts should include the following information:
The name of the organization
A statement confirming that the organization is a registered 501(c)(3) organization, along with its federal tax identification number
Date that the donation was made
Donor's name
Type of contribution made (cash, goods, services)
Value of the contribution
Additional information specifying if anything was received in exchange for the donation
Name and signature of authorized representative of the organization
Can you create templates for your donation receipts?
We recommend creating templates for your donation receipts. This goes for both emails and letters. Templates make that you're including the information you need in all your receipts. It also saves times by automating your receipts.
We recommend creating these types of donation receipt templates:
It's important to keep in mind that just because you have templates for your donation receipts, doesn't mean they have to be boring. There are several ways to create compelling donation receipts. Think about how you can engage your donors with your receipt. What kind of meaningful content can you include?
We recommend considering:
Short videos
First-hand testimonials from your beneficiaries
High-quality photos
Blog posts that are education or inspirational
If you add in creative content and present it in a way that's compelling, you can engage your donors and encourage them to continue supporting your organization.
Types Of Donation Receipts
Charitable Donation Receipt
A charitable donation receipt is a letter, email message, or receipt form notifying a donor that their gift has been received. Charitable donation receipts contain any and all information regarding the gift (donor name, organization name, gift amount, gift type, etc.). Any gift over $250 must be recognized with a receipt.
In-Kind Donation Receipt
In-kind gifts come in the form of goods or services rather than money. Gifts of goods do hold a dollar value and are tax deductible; gifts of time and service do not hold a dollar value and are not tax deductible. The monetary value of goods donated must be determined by the donor and not the nonprofit. In-kind donation receipts should include the donor's name, the description of the gift, and the date the gift was received.
Cash Donation Receipt
A cash donation receipt provides written documentation of a cash gift. The receipt proves the authenticity of the transaction to the government, should the donor wish to deduct the contribution from their total income.
Stock Gift Donation Receipt
A stock gift donation receipt details the gift of stock shares of a corporation. The receipt should include the number of shares and the name of the corporation but should not place a monetary value on the shares. While not required, it is best practice to send a follow-up letter that reports the quantity and value of the donated shares on the date of the gift.
Silent Auction Receipt
Silent auction receipts should be provided to every silent auction attendee who leaves the event with items they purchased. The receipt should include the name of the organization and the date of the event, as well as the names and values of each item purchased by the attendee.
End-of-Year Donation Receipts
Your organization must send end-of-year donation receipts, also known as year-end giving statements, to certain donors to stay compliant with government regulations and to allow your donors to deduct their donations from their taxes.
Bottom Line
Donation receipts contain valuable information donors will appreciate having once tax season arrives. You can create compelling receipt templates that help you save time and ensure you're including the most important information.
Related Resources: