Black History Month: 8 Nonprofits That Are Advocating For Racial Justice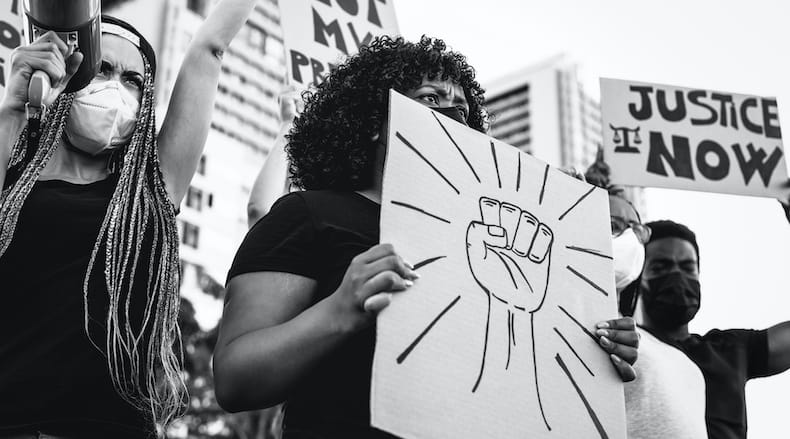 This Black History Month, we're proud to highlight the innovative and impactful work of these Kindful customers. Their missions are varied—from helping kids geek out with technology to telling an overlooked history of what we know of basketball to helping those struggling with mental illness—but their causes are all worthy of your time and support.
On this page, you'll find their missions, the areas of impact they serve, and ways to support their important work. You'll also find diversity, equity, and inclusion resources for nonprofits below.
Cave Canem: A Home For Black Poetry
Mission: Founded by Toi Derricotte and Cornelius Eady in 1996 to remedy the under-representation and isolation of African American poets in the literary landscape, Cave Canem Foundation is a home for the many voices of African American poetry and is committed to cultivating the artistic and professional growth of African American poets.
Impacting: The Arts
Headquarters in: Brooklyn, NY
How to support Cave Canem
African American Policy Forum
Mission: The African American Policy Forum (AAPF) is an innovative think tank that connects academics, activists and policy-makers to promote efforts to dismantle structural inequality. They utilize new ideas and innovative perspectives to transform public discourse and policy. They promote frameworks and strategies that address a vision of racial justice that embraces the intersections of race, gender, class, and the array of barriers that disempower those who are marginalized in society. AAPF is dedicated to advancing and expanding racial justice, gender equality, and the indivisibility of all human rights, both in the U.S. and internationally.
Impacting: Policy
Headquarters in: New York, NY
How to support African American Policy Forum
Learn more about African American Policy Forum
Association of Black Cardiologists
Mission: Founded in 1974, the Association of Black Cardiologists, Inc., (ABC) is a nonprofit organization with an international membership of over 1,900 health professionals, lay members of the community (Community Health Advocates), corporate members, and institutional members. The ABC is dedicated to eliminating the disparities related to cardiovascular disease in all people of color. Today, the ABC's public and private partnerships continue to increase their impact in communities across the nation.
Impacting: Healthcare
Headquarters in: Washington, D.C.
How to support Association of Black Cardiologists
Learn more about Association of Black Cardiologists
Black Fives
Mission: The Black Fives Foundation works to research, preserve, showcase, teach, and honor the pre-NBA history of African Americans in basketball. Their efforts aim to conserve narratives and artifacts of the pre-NBA Black basketball experience, celebrate early African American basketball artifacts, encourage understanding of early African American basketball history as an essential cultural genre, and advocate for the recognition of early African American basketball pioneers.
Impacting: Sports
Headquarters in: Greenwich, CT
How to support Black Fives
Learn more about Black Fives Foundation
Depressed While Black
Mission: Imadé (ee-MAH-day), the founder of Depressed While Black®, is a writer and mental health advocate. She is a suicide attempt survivor who lives with clinical depression and borderline personality disorder. Imadé first developed Depressed While Black as her 2015 Columbia University Non-Fiction Creative Writing MFA thesis. Depressed While Black has grown into an online community, an in-progress book, and a 501(c)3 nonprofit that donates Black-affirming personal care items to psychiatric patients. Depressed While Black envisions a world where people of African descent heal from severe depression through Black-affirming mental health support and advocacy.
Impacting: Mental Health
How to support Depressed While Black
Learn more about Depressed While Black
Geeking Out Kids of Color
Mission: Geeking Out Kids of Color's mission is the liberation of youth of color through technology and mentorship, by developing decolonized tech education programs to nurture community leaders of change.
Impacting: Youth
Headquarters in: Seattle, WA
How to support Geeking Out Kids of Color
Learn more about Geeking Out Kids of Color
NAACP Spokane
Mission: The mission of the National Association for the Advancement of Colored People is to ensure the political, educational, social, and economic equality of rights of all persons and to eliminate raced-based discrimination. They envision a society in which all individuals have equal rights without discrimination based on race.
Impacting: Systemic Inequality
Headquarters in: Spokane, WA
How to support NAACP Spokane
Learn more about NAACP Spokane
BEAM
Mission: BEAM is a collective of advocates, yoga teachers, artists, therapists, lawyers, religious leaders, teachers, psychologists and activists committed to the emotional/mental health and healing of Black communities. Their mission is to remove the barriers that Black people experience getting access to or staying connected with emotional health care and healing. They do this through education, training, advocacy and the creative arts.
Impacting: Mental health
Headquarters in: Los Angeles, CA
How to support BEAM
Diversity, equity, and inclusion resources for nonprofit organizations
DEI nonprofit blog posts
DEI nonprofit webinars
DEI nonprofit templates
DEI nonprofit podcasts
For more blog posts, webinars, templates, and podcasts, we recommend checking out Bloomerang's Diversity, Equity, and Inclusion resources.
Schedule a live demo with our partner Bloomerang, and we'll show you how easy it is to create and automate reports, utilize online and offline fundraising tools, quickly integrate and access all your data, and ultimately create more time to engage your donors.